Whether it's a cake, a scarf or piece of embroidery - get your skills in gear and share your sparkle. Be ambitious and bake a batch of cookies or a dozen scarves to sell them for donations. Make sure to adhere to social distancing rules if you are selling anything to your friends and family.
Make sure to share photos of your incredible crafts with the hashtag #ShareYourSparkle
Check out a creation from one our supporters for some inspiration:

Cookie crafting
Create some delicious baked treats based on St John's new ambulance - try out our recipe below. If you're feeling ambitious, you could bake a batch and sell them for donations. Make sure to adhere to social distancing rules if you are selling baked goods.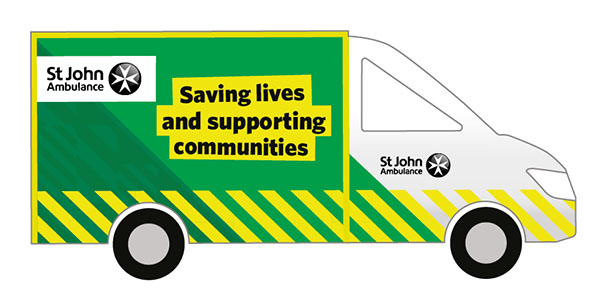 Make sure to share photos of your delicious creations with the hashtag #ShareYourSparkle.
Cookie recipe
This recipe is taken from BBC goodfood. To find this recipe and more visit the goodfood website.
Ingredients
175g dark muscovado sugar
85g golden syrup
100g butter
3 tsp ground ginger
1 tsp ground cinnamon
350g plain flour, plus extra for dusting
1 tsp bicarbonate of soda
1 egg, lightly beaten
To finish
Depending on how you want to decorate your design. Chocolate or royal icing will work well for overall coverage but don't be afraid to use a little bit of sparkle!
Method
Heat the sugar, golden syrup and butter until melted.
Mix the spices and flour in a large bowl.
Dissolve the bicarbonate of soda in 1 tsp cold water.
Make a well in the centre of the dry ingredients, add the melted sugar mix, egg and bicarbonate of soda. Mix well. At this stage the mix will be soft but will firm up on cooling.
Cover the surface of the biscuit mix with wrapping and leave to cool, then put in the fridge for at least 1 hr to become firm enough to roll out.
Heat oven to 190C/170C fan/gas 5. Turn the dough out onto a lightly floured surface and knead briefly. At this stage the dough can be put into a food bag and kept in the fridge for up to a week.
Cut the dough in half. Thinly roll out one half on a lightly floured surface. Cut into shapes with cutters, such as Ambulances, Bertie the Badger, The Amalfi Cross or more traditionally: gifts, trees and hearts, then transfer to baking sheets, leaving a little room for them to spread.  
Repeat with remaining dough.
Bake for 12-15 mins until they darken slightly. Cool for a few mins on the baking sheets, then transfer to a wire rack to cool and harden up completely.
Decorate and enjoy.