My name is Michael, and I owe my life to the two St John Ambulance emergency crew who were first on scene responding to a 999 call out.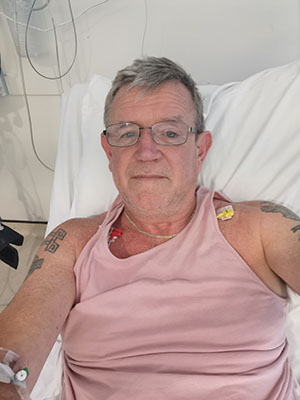 Michael Dunne recovering from surgery after having a stent fitted in his heart
Whilst doing some DIY around the house, I began to feel very unwell. I called my GP who advised me to go to A&E but I'd recently been at hospital with my father so I didn't want to go. I took my own blood pressure – it was high but quickly returned to normal and I felt ok again.
However, a short while later, I once again began to feel ill, so my wife immediately called 999 for an ambulance.
First on the scene were Chris and Sam from St John Ambulance at Grays.
I remember going into cardiac arrest, it was just a few minutes after Chris and Sam arrived. By performing CPR (Cardiopulmonary resuscitation) and using the defibrillator, they were able to resuscitate me twice and saved my life. They kept me stable until the paramedics and the air ambulance arrived.
I was taken to The Essex Cardiothoracic Centre in Basildon, where just one and half hours after having a cardiac arrest, I had surgery to fit a stent in my heart, which had a blockage. Two hours later I was I was in recovery, sitting up and talking.
Incredibly I was back home just three days later. It was quite a relief for all my family as no one had been able to visit me in hospital due to COVID-19. It's been quite an emotional time, but I'm pleased to say I'm doing well – I'm taking my medication and doing my rehab. 
It's been quite a year, but one of the positives has been the wonderful St John people who saved my life in those first few minutes – I can't thank them enough.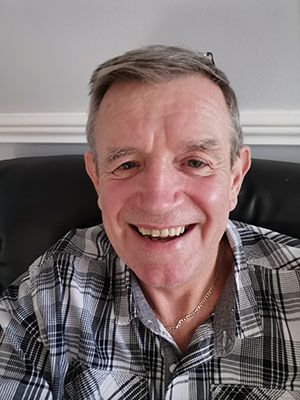 Michael is recovering well at home
I am now signed up to give a regular donation to St John; what they did for me that day was fantastic, so it's the least I can do.
By donating this Easter your kindness will make it possible for St John Ambulance to help save lives. It could be your life or the life of somebody you love. That's why a gift today is so important – to help save lives like mine. Thank you!
I will always be incredibly grateful to St John, and with your support, they can ensure their people are able to provide their lifesaving skills within our communities for years to come.
St John Ambulance continues to provide support to the NHS and communities during the COVID-19 pandemic, including attending 999 emergencies. Your kindness this Easter could help to train more lifesavers like Chris and Sam.