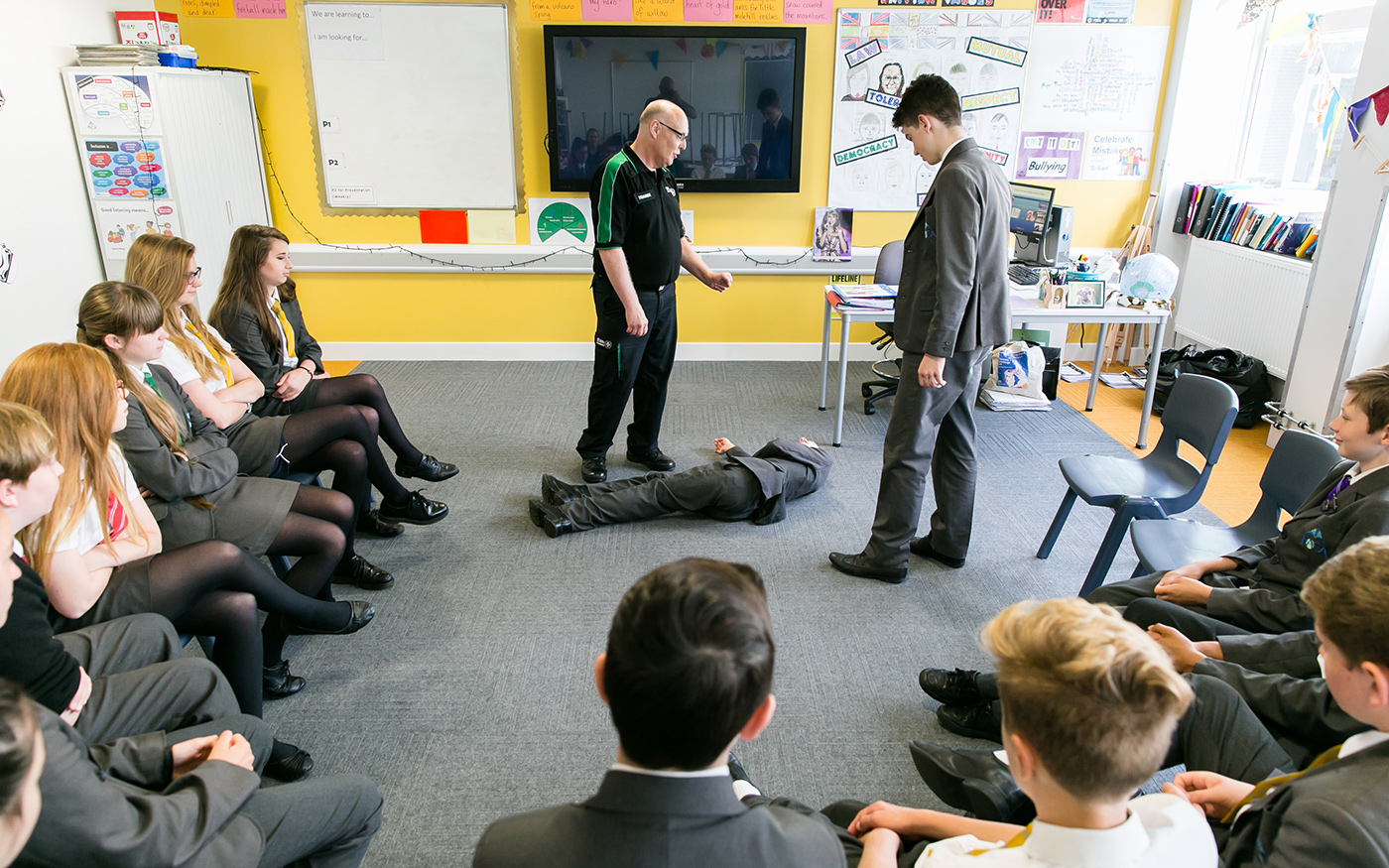 We're offering primary and secondary schools in England free first aid lessons and teaching resources after receiving funding from the Department for Education to help young people develop traits such confidence, grit and community spirit.
The Government's Character Education grant will allow us to first aid train 100,000 young people in life saving skills, empowering them with the knowledge to help family, friends, or someone in the community when they need it the most.
We're aiming to engage 600 schools nationally through the funding.
Wendy Human, Director of Charitable Initiatives and Training at St John Ambulance, said: 'We know schools want their pupils to learn first aid but most of them don't have the resource to teach it – this is the perfect opportunity for them to get life saving skills taught in the classroom.
'First aid can boost confidence, develop integrity, encourage resilience, and inspire young people to be the difference in their communities.'
'We believe that all pupils should have the chance to learn first aid and develop these skills. Our vision is that no-one should suffer for a lack of trained first aiders, and the Character Education grant will help us take a big step in that direction.'
Edward Timpson, Children and Families Minister, Department for Education said: 'We are extending opportunity to all young people by equipping them, through a high-quality, rigorous curriculum, with the core knowledge and skills most valued by employers.
'We want young people to have the opportunity to develop a broader range of traits and skills, including first aid, so I'm delighted St John Ambulance are able to deliver training to thousands of young people with our £250,000 character grant.'
We're also using the Character Education grant to assist with our Big First Aid Lesson school resources – free termly first aid training videos available to schools with a live event in the summer term for schools to tune into. Last year the live event educated 198,000 students in classrooms up and down the country, learning skills such as how to treat an asthma attack or help someone with a severe bleed.
Get in touch
If you're a teacher and interested in accessing the free schools training, please get in touch with your regional representative:
North East (Durham, Humberside, Northumbria, North Yorkshire and Teesside, South and West Yorkshire)
Paul Cairns
Pail.Carins@sja.org.uk
0191 256 4703
West Midlands (Herefordshire, Shropshire, Staffordshire, Warwickshire, Worcestershire)
Laurie Fisher
Laurie.Fisher@sja.org.uk
0121 237 3879
East Midlands (Derbyshire, Leicestershire and Rutland, Lincolnshire, Nottinghamshire, Northamptonshire)
East-mids-training@sja.org.uk
0303 003 0103 option 2
South West (Avon, Cornwall, Devon, Dorset, Gloucestershire, Somerset, Wiltshire)
Helena Burton
Helena.Burton@sja.org.uk
01452 858232