Services available in Hastings
The Hastings Homeless Service is an accessible, approachable, and inclusive service. It supports marginalised members of the community, including those experiencing homelessness, who find it difficult to access NHS services.

The service provides nurse-led healthcare and first aid, as well as mental health support and therapeutic listening.
Services and opening times
Since the start of the Covid-19 pandemic, we have adapted our service to meet the changing needs of the community, responding to the challenges faced by our clients in accessing mainstream health services.
We are now operating from a mobile treatment centre, allowing us to take essential healthcare to homeless and vulnerably housed people across the area, as well as using our treatment room at Seaview Project, Hatherley Road, St Leonards-on-Sea TN37 6LB (view on Google maps).
Seaview clinic times:
Tuesdays, 11:00am-1:30pm - nurse consultations and specialist foot care
Alternate Thursdays (please contact us for dates), 10:30am-12:30pm - nurse consultations and specialist foot care
Fridays, 12-1:30pm - nurse consultations and specialist foot care
We also provide a health outreach service fortnightly from the mobile treatment centre outside Hope Kitchen, Wellington Square Church, Wellington Square, Hastings TN34 1PN (view on Google maps). The entrance is on Albert Road, opposite Shots snooker bar.
Alternate Saturdays (please contact us for dates), 7:30pm-9pm - nurse consultations
Clinics operate on a mainly drop-in basis. However, we are also more than happy to take referrals from agencies and see people by appointment.
As well as the above static clinics, we provide a mobile outreach service at other times in the week, covering a range of locations across Hastings and St Leonards.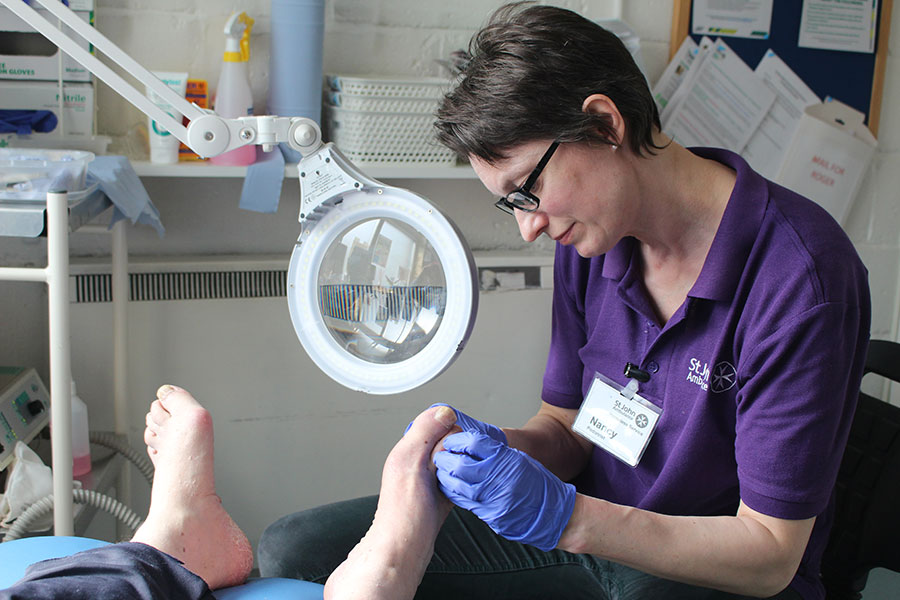 Volunteer Nancy providing podiatry treatment to a client
What we can do:
Discuss current health concerns
Assess and dress wounds, including leg ulcers
Provide specialist footcare
Make referrals to other services
Mental health support and advocacy
Administer first aid
Prescribe medication for minor ailments, wounds, and infections
Offer pregnancy testing
Give flu jabs in winter
Provide socks, space blankets, and sun cream
Give stop smoking support
We can't provide:
Needle exchange
Transport
Accommodation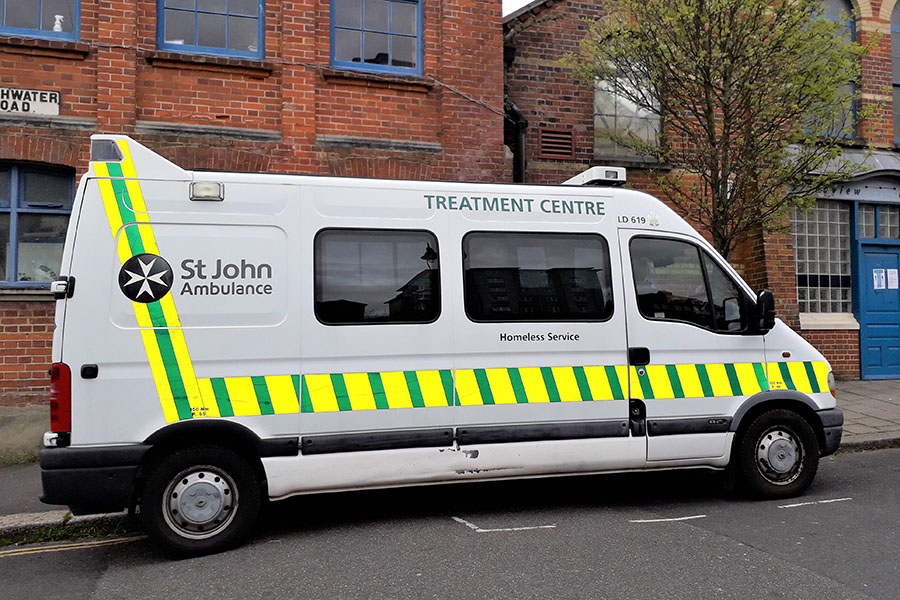 Our mobile treatment centre parked outside the Seaview Project
What our clients say:
"Without SJA I would be dead. Their emotional support has saved my life."
"They are really good listeners. I have used mental health in other places but SJA is much better. I don't feel judged by them."
"They helped me regain trust in people."
"They helped me get off the street, so I am no longer homeless."
"I stopped drinking."
2020 Service User Survey
The Service User Survey conducted in Nov-Dec 2020 elicited some of the best feedback ever received by the service. For example, a friendly, non-judgmental and understanding environment was mentioned by 100% of respondents when describing their experiences with Hastings Homeless Service staff.
We pride ourselves on being a holistic health service, concerned with emotional, mental health and social needs as well as physical health. Benefits to clients' health identified in the survey included an improvement of their lifestyle across several areas, including footcare, mental health, alcohol and drug use, and the ability to access other services independently.
Read our full 2020 Service User Survey.
End of Year Report
Read the full 2020 End of Year Report (pdf).
Get in touch
For more information about our Hastings Homeless Service, please get in touch.
Email: sussexhomelessservice@sja.org.uk
Phone: 01424 435358