Wednesday January 20, 2022: HRH The Countess of Wessex, Grand President of health and first aid charity St John Ambulance and a Care Volunteer with the organisation, has praised the ongoing efforts of volunteers, during a shift supporting the NHS vaccination programme.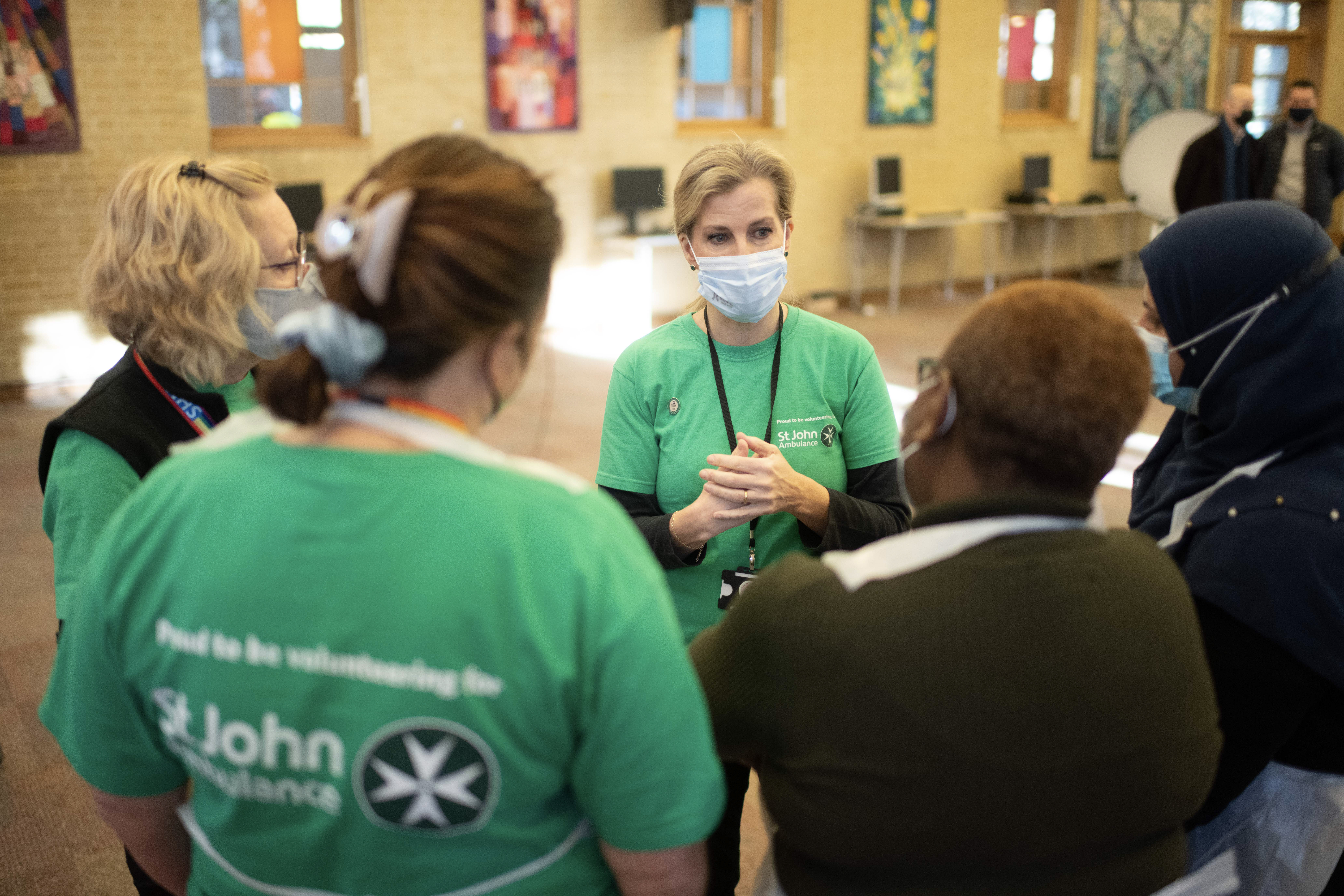 The Countess spent the morning of her birthday, Thursday 20 January, at a vaccination centre in Surrey with volunteers from St John and other organisations who were administering Covid-19 vaccinations. Like many of St John's existing and long-standing volunteers, Her Royal Highness has previously completed training to become a Care Volunteer in support of the NHS vaccination programme and undertook a number of shifts last year.  
During the morning she worked with fellow volunteers to greet patients, take their details and look after their wellbeing while they had their vaccinations. At the end of her shift she was presented with a Covid pin badge to thank her for her support during the pandemic, as well as bouquet of flowers to mark her birthday. 
A team of more than 12,000 volunteers have been deployed to NHS vaccination centres all over England, in an extraordinary collective effort to beat the pandemic. However, more volunteer vaccinators are still needed to help support the NHS in delivering the vaccines. St John is also looking to bring in thousands of new first aiders, youth leaders and more in a new recruitment drive launched today as demands on the charity's services grow. 
Further details can be found at https://www.sja.org.uk/
Ann Cable MBE DL, Chief Commissioner at St John, said: "We are honoured that The Countess of Wessex chose to spend her birthday with St John. It is a testament to the outstanding contribution of our volunteers, not just in response to the pandemic but in all the many different walks of life in which we provide first aid and other services to our communities. 
"Our volunteers are the life-blood of St John, and the pandemic has demonstrated just how vital their service is to the health of the whole country. We can never have enough volunteers and I would encourage anybody who has been inspired by recent events to help their community, to speak to St John Ambulance and find out more about the opportunities available. Volunteers at St John can be part of the team that saves lives, whether it's helping people in the community, providing first aid at events, or supporting the NHS."