Who should attend?
This course is designed for people who want to receive our most thorough first aid training. It is most suited to those working in high-risk environments, such as building sites or warehouses.
Candidates need a basic command of English (defined as Level 2). While we are often able to provide support to people who do not have English as a first language, our ability to do so is limited by the time available and the number of people who require assistance. We may be able to make special arrangements if requested in advance. Please contact us if you need any guidance.
Booking for large numbers of students? Have a look at on-site training options.
Need to requalify? - We deliver First Aid at Work Requalification courses
Need a first aid refresher? View our Annual Refresher course.
What are the different learning styles for this course? 
Classic learning
Classic learning is entirely classroom based, this course would require 3 days in the classroom.
Non-Consecutive 
Non-Consecutive learning is entirely classroom-based, however, the 3 days are spread across 3 weeks.
Blended learning
Blended learning is run in 2 parts:

This part of the course is self-directed and is expected to take a day to complete. You can complete the modules at your own pace in your own environment providing you with the flexibility you need. The online training must be completed within 6 weeks before your face-to-face training.
The online section of this course must be completed before attending the face-to-face section. 
Part 2: Face-to-face (at a training venue)
You'll be in the classroom for 2 days, and on these days you will be in a small group with fellow blended coursemates. The day will be led by a specialist trainer.
Find out the benefits of blended learning
Read FAQs about our online training platform
Read the minimum system requirements
What topics are covered on a First Aid at Work course?
Adult resuscitation (CPR)*
Allergic reaction
Asthma
Bone, muscle and joint injuries
Burns and scalds
Chest pains
Choking adult
Communication and casualty care
Eye injuries
Fainting
Head injuries
Defibrillator prompts and how to respond (theory-based)
Defibrillator pad placement (theory-based)
Low blood sugar
Managing an emergency
Minor and severe bleeding
Poisons and what to do if someone has been poisoned
Role of the first aider (including knowledge of health and safety regulations)
Seizures
Shock
Spinal injuries
Stroke
Unresponsive adult
*We've started bringing rescue breaths back into our training.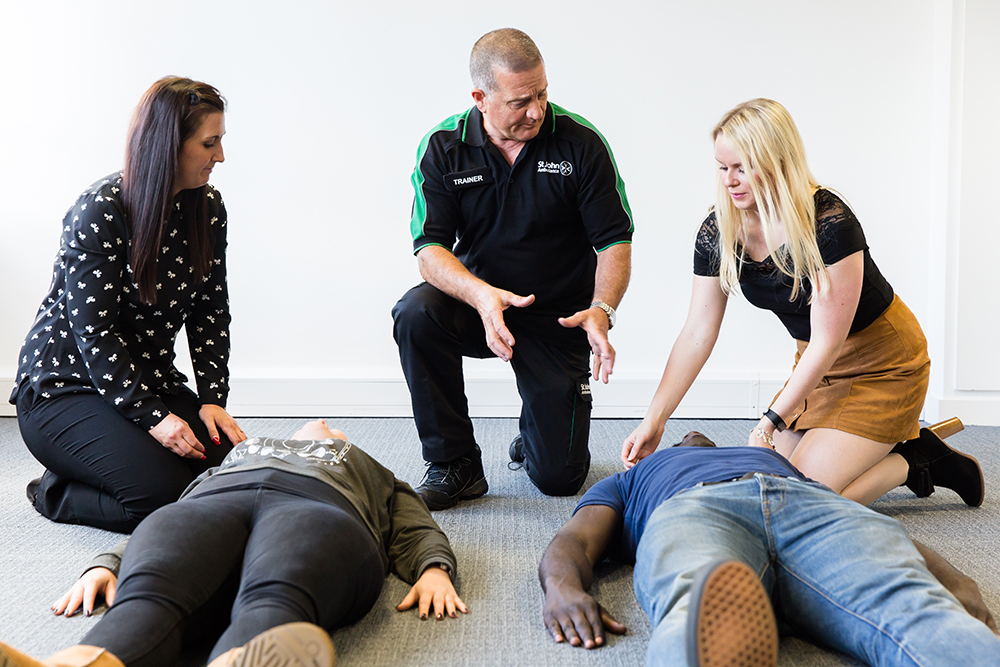 Trustpilot reviews of this course