The Duke and Duchess of Cambridge met our team of St John Ambulance volunteers when they visited the recently opened vaccination centre at Westminster Abbey today (Tuesday 23rd March).
Their royal highnesses paid tribute to the efforts of staff and volunteers at the centre for their hard work and commitment to the Covid-19 vaccine rollout. In early March, the NHS opened the Westminster Abbey clinic to provide up to two thousand life-saving jabs each week to local Westminster residents.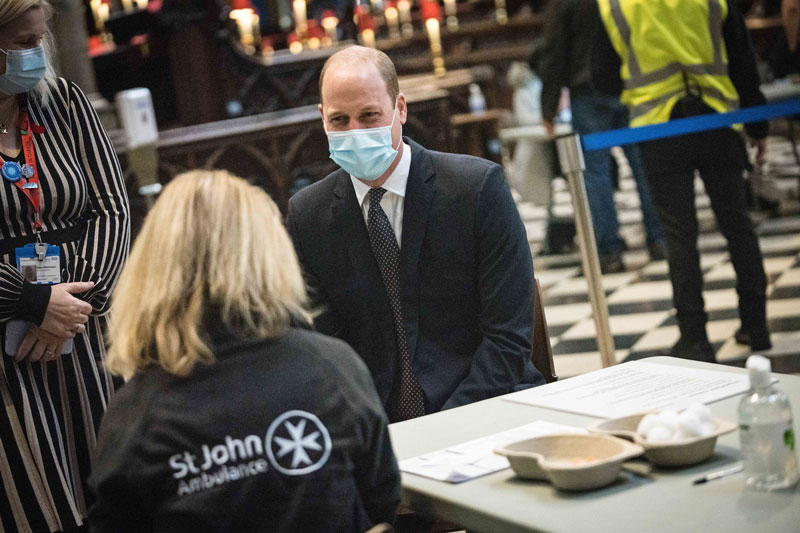 Run by Chelsea and Westminster Hospital NHS Foundation Trust, the vaccination centre operates from the south transept, home to the world-famous Poets' Corner. On a typical day it is operated by around 30 NHS staff, supported by volunteers from St John and the Abbey's Visitor Experience team.
During the visit, The Duke and Duchess heard from staff and volunteers about their experiences of being involved in the largest vaccination programme in the nation's history and of working out of such an iconic venue. St John volunteer Paola Totaro was among those who chatted with the Duke during the visit.
Their Royal Highnesses also met and spoke with a number of people receiving their vaccine.
St John's support of the NHS COVID-19 response includes providing volunteer vaccinators to deliver injections and many more volunteers who care for people before and after they receive their jabs.
The charity is training more than 30,000 vaccination volunteers overall, using its longstanding expertise in empowering people with lifesaving clinical skills and the confidence to use them, every day.
Ann Cable, Chief Commissioner, St John Ambulance said: "We are thrilled for our volunteers who had the pleasure of meeting HRH the Duke and Duchess of Cambridge today, on the anniversary of the first lockdown."
"Our incredible people have been there for communities across England from the moment COVID arrived, supporting the NHS by responding to the needs of and caring for patients in hospitals and in ambulances. And now, helping our nation get back on its feet as part of a wider team effort to deliver vaccinations."
"As St John volunteers surpass another milestone - of giving over 400,000 hours of their time responding to this health emergency – this is a timely reminder of how proud we are of their contribution."