Thursday September 9, 2021: Government Ministers and the Leader of the Opposition were among the Parliamentarians thanking St John Ambulance volunteers and employees for their extraordinary efforts during the coronavirus pandemic, yesterday.

At a reception in the Houses of Parliament's Terrace Pavilion, politicians from across the house united in their gratitude for the health and first aid charity's contribution, summarised in this report which also outlines how St John people can support the nation in future.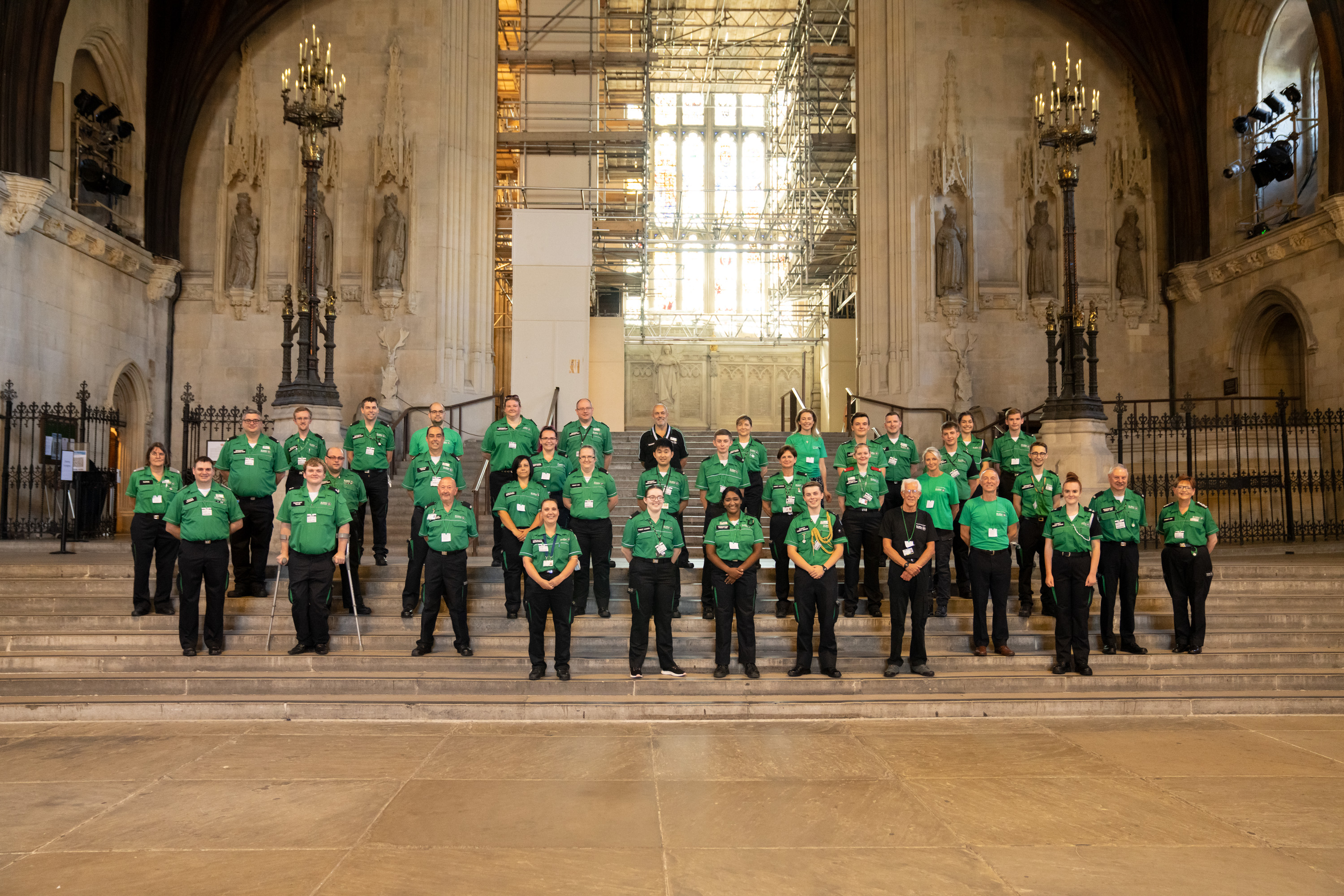 It followed praise for St John volunteers at Wednesday's Prime Minister's Questions. Responding to a question about the charity from James Gray MP – who hosted yesterday's event – Boris Johnson said: "I indeed join my honourable friend in thanking the St John Ambulance for everything that they do.

"They have been fantastic, and I have met many many St John Ambulance volunteers during the last 18 months who have done an absolutely astonishing job."

Since March 2020, tens of thousands of St John people have given more than a million hours of their time to care for people in hospitals, on ambulances, at events, through community projects, and by helping deliver the NHS COVID-19 vaccination programme.

And around 50 of the charity's volunteers and employees from across England, plus many of the charity's senior executives and trustees, met Members of Parliament and the House of Lords, along with other VIP guests.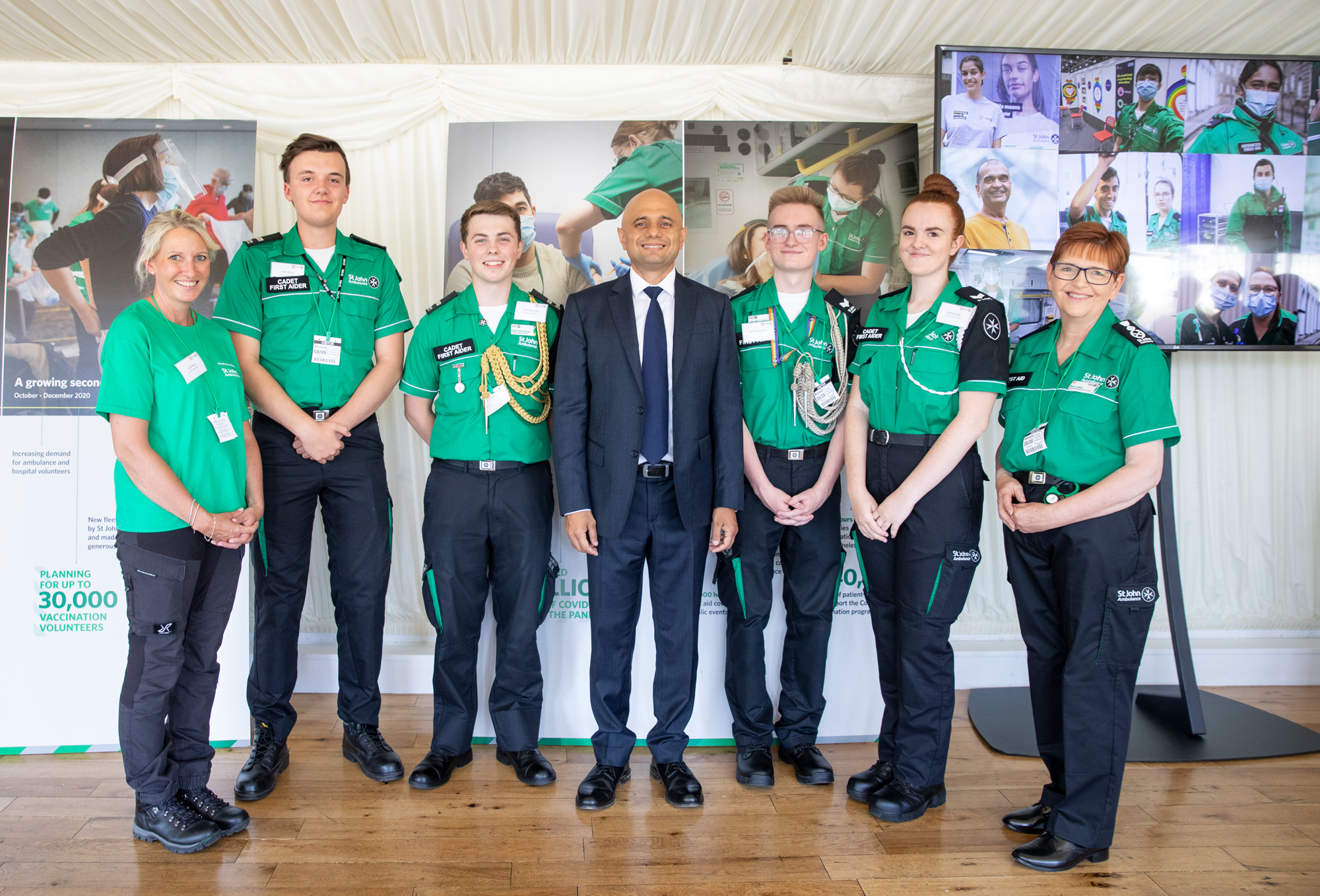 Secretary of State for Health and Social Care, Sajid Javid said: "From me, it's just a huge thank you to St John Ambulance."

Acknowledging the role St John people still have to play in supporting the NHS and local communities, he added: "I think it's fair to say that, as a country, we have gone through the biggest health challenge in living memory. Things are getting better, but it's not over yet."

St John volunteers have contributed well over 700,000 hours of their time to the vaccination programme, and Nadim Zahawi MP recounted how he had been glad to know he could rely on St John when the Prime Minister, Boris Johnson asked him to become Minister for COVID Vaccine Deployment.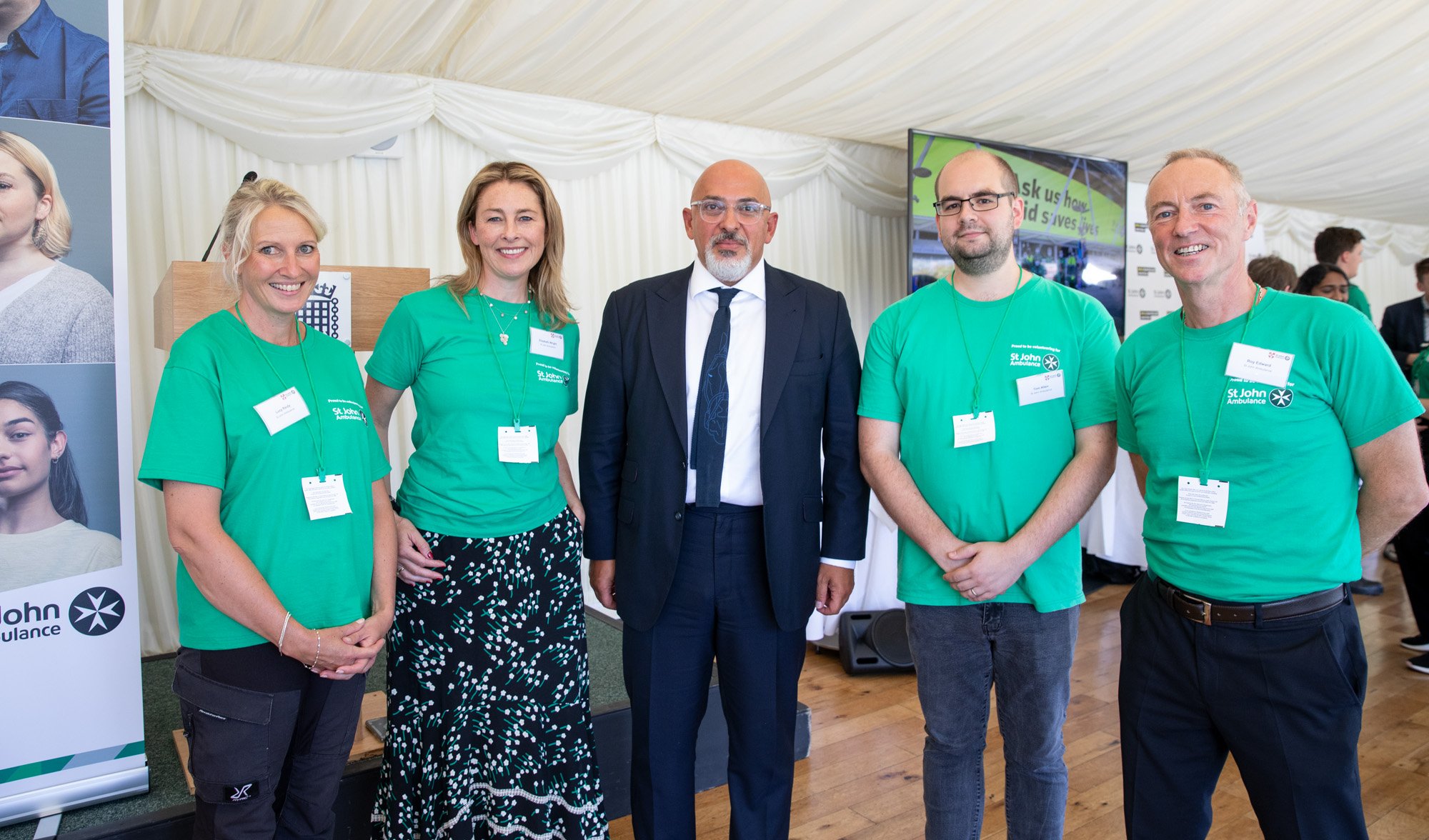 Describing the achievements of St John Ambulance CEO, Martin Houghton-Brown and his team as "remarkable", Mr Zahawi said: "You not only stepped forward – you stepped up!"

And the minister delivered a thank you message from the PM himself: "He has seen the work of St John volunteers in vaccination centres up and down the country and he sends you all a huge, great big hug and a thank you, because the reason we can hug each other is because of the vaccination programme."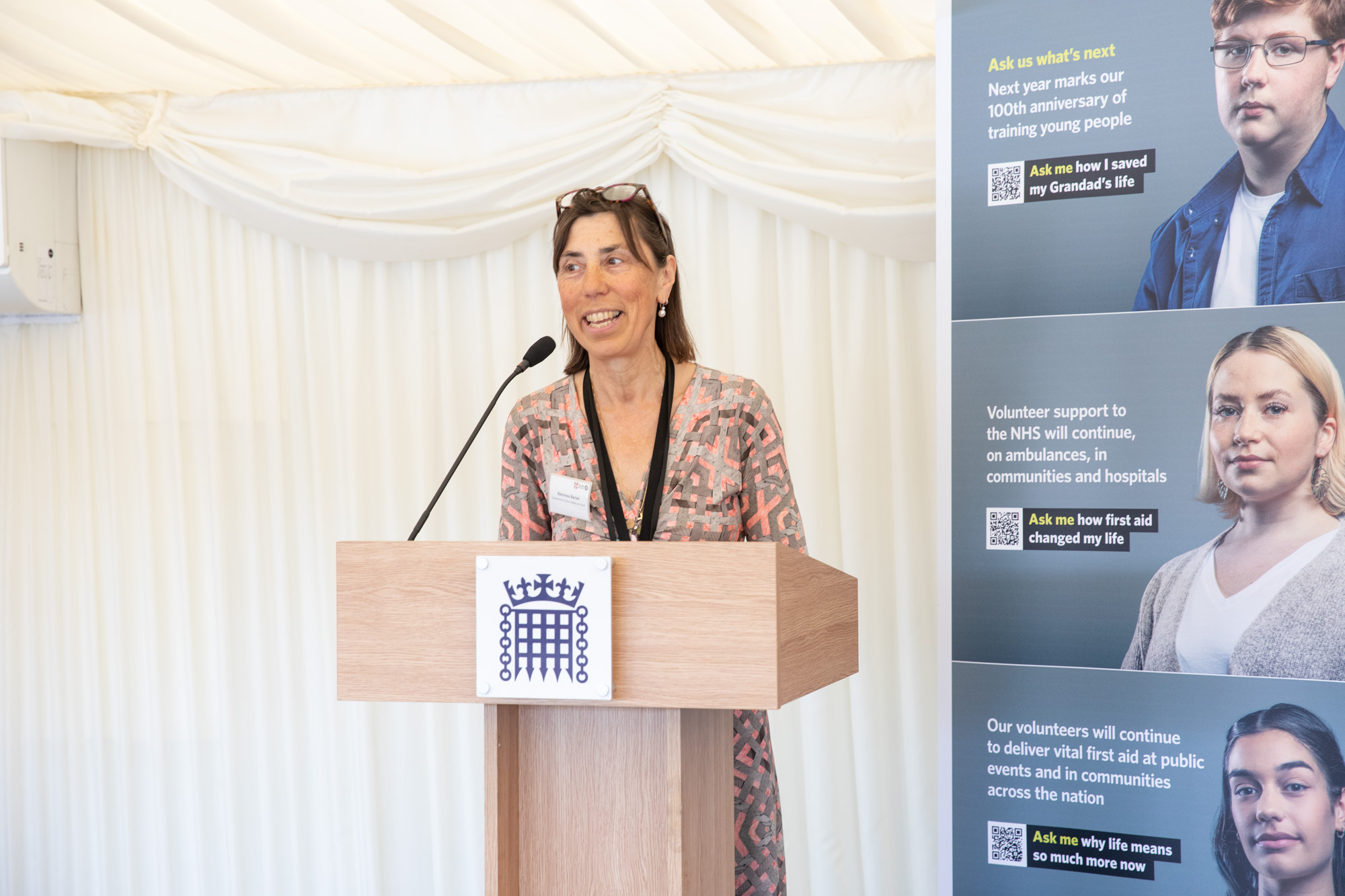 The Minister for Civil Society, Baroness Barran met St John volunteers at a vaccination centre in Derby, recently, and recounted her experience.

"I was struck by the incredible modesty and understatement of those who were giving their time for nothing and supporting their community," she said.

"I was left with a sense that there was a perfectly-formed green-shirted army there and around the country," she added, thanking St John volunteers for the services they have provided, not just during the pandemic but throughout the charity's long history.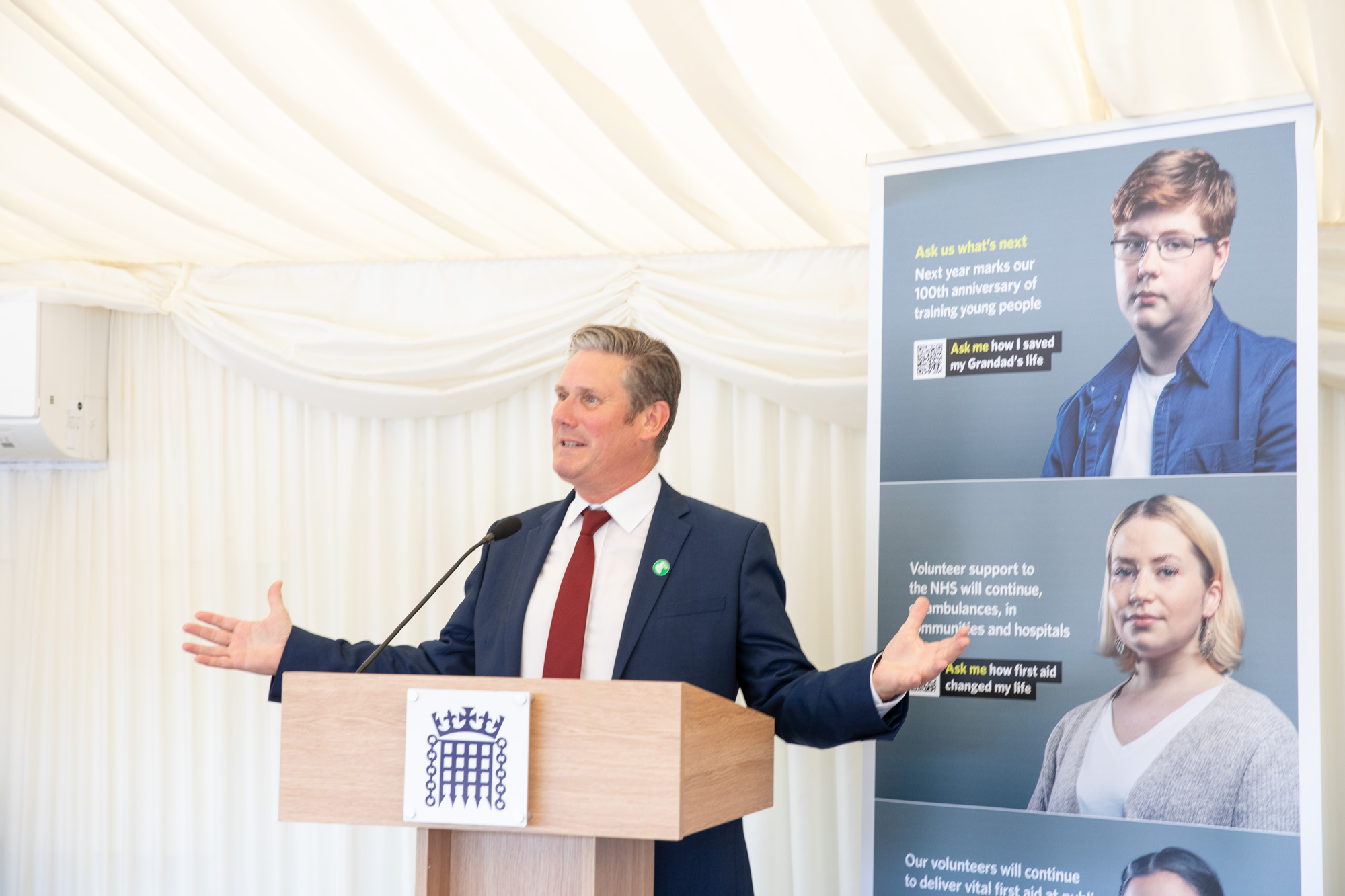 Also keen to praise St John was the Labour Party leader, Sir Keir Starmer, who spoke of how the Government and opposition were united on this subject.

He gave the early days of vaccination centres when it was mostly older people queuing up for their jabs as an example of the "gentle sure hand, guidance and support" St John offers people, recalling how people would beam with gratitude and relief after getting their injections.

"Their smiles are for you," said Sir Keir, before highlighting the cross-party thanks to St John Ambulance.

"We really are truly grateful, and support you jointly across Parliament, for all that you do."

To find out more about St John Ambulance's amazing volunteers and their work visit: www.sja.org.uk/AskMe