7 April 2021, London, UK – Today, leading health and first aid charity St John Ambulance and Standard Chartered Bank announce the launch of the 'Health Citizens Programme' in the UK, a community programme that aims to reach and train nearly 1,700 young people, aged between 18 and 25, in a wide range of essential employability and leadership skills with a specific health focus.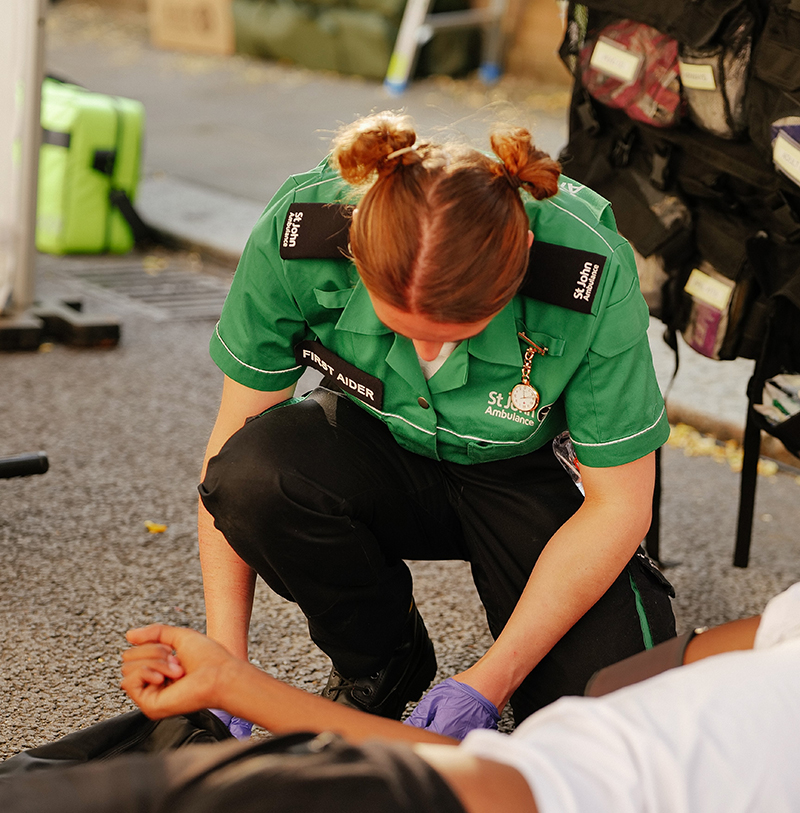 The Health Citizens Programme will form a key part of St John's strategic goal that more young people than ever will be qualified and ready to be active Health Citizens, role models and next generation health professionals.  Funded by the Standard Chartered Foundation, the programme is part of Futuremakers by Standard Chartered, a global[1] initiative to tackle economic inequality.
Six initial locations will be targeted in the first phase of the programme – Nottingham, Bradford, Stoke-on-Trent, Dagenham, Barking and Hackney – with further locations due to be added over the next few months.
The programme builds knowledge and skills that will support the economic inclusion of young people. These range from leadership and teamwork to growing confidence and aspirations to increase employability and workforce related skills, particularly in the health and social care sector but also beyond. The focus is primarily on young people from low income backgrounds who do not traditionally engage with volunteering and the opportunities it provides.
Volunteers are an important part in the delivery of St John's programmes and those from the health sector will play a key role in providing sector-related skills and knowledge to deliver their community projects. Standard Chartered employees from the Bank's London Head Office will also support the programme, mentoring and sharing employment insights to help prepare participants for the future of work. This programme comes at a crucial time in the UK when job losses are high in younger and lower-income groups. Ultimately it is hoped that participants will be able to access wider employment opportunities and are encouraged to explore careers that help to build capacity within the health sector - a key area that will need more attention as a consequence of the COVID-19 pandemic.
Martin Houghton-Brown, Chief Executive of St John Ambulance, said: "Standard Chartered has been an incredible partner throughout the COVID-19 crisis and I'm delighted that this collaboration is now going from strength to strength with Futuremakers. We'll be reaching out to young people in communities facing real economic disadvantage and working with them not only on life saving skills but on life skills which could enable them to make a real difference in their community, and we believe that by doing so, this will connect them to new economic opportunities. Understanding that they can make a difference will take them on the next step of their life journey and we're thrilled to have this opportunity to work with Standard Chartered to make this happen."
Torry Berntsen, CEO of Europe & Americas, Standard Chartered, said: "We are incredibly proud to launch the Health Citizens Programme with St John Ambulance as part of Futuremakers to support young people in our local communities who are some of the hardest hit by the economic and social impact of COVID-19.
"We have a real opportunity to inspire, encourage and share our knowledge and expertise to help equip the next generation with skills for the future and to thrive. We are thrilled to be part of this much-needed programme and cannot wait to see how the participants progress over the next few months."
This announcement is another example of the Standard Chartered's Here for Good brand promise and commitment to supporting its communities as the coronavirus pandemic continues. In 2020, Standard Chartered in the UK donated USD300,000 to St John Ambulance after UK employees voted to support the charity's work in response to the pandemic. The donation contributed toward three key areas; national volunteer training for volunteers during the COVID-19 crisis, purchase of monitors and defibrillators and a brand-new custom-built ambulance. A further USD300,000 was shared by an additional six charities in the UK; Age UK Medway, Body & Soul, Epping Forest Foodbank, the National Emergencies Trust, the RNIB and Street League.
[1] https://www.sc.com/en/sustainability/investing-in-communities/futuremakers/