Tony Chapman, a dad from Barton-Upon-Humber, celebrates his first Father's Day since his son Alvin saved his life after performing CPR when he suffered a major cardiac arrest at home.
'I owe my life to my son. I urge everybody, to learn basic life saving skills as you really don't know when you might need them,' said Tony, aged 65.
If it wasn't for Alvin's first aid knowledge and quick-thinking I wouldn't be here now. - Tony Chapman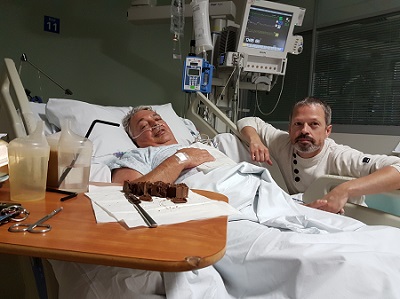 Image: Tony Chapman and his son Alvin
Like most Fridays, Tony and his son Alvin were playing a game of pool at their local snooker club, however, a little while later Tony began to feel unwell. Alarmed by his dad's sudden deterioration, Alvin decided to take him home.
Luckily, Alvin who had workplace first aid training from St John Ambulance three years ago, recognised some of the signs of cardiac arrest – unresponsive, not breathing and no movement. Immediately, he lowered his dad to the floor and begun CPR after calling for an ambulance.
When the ambulance arrived, they had to use a defibrillator and rushed him to Hull Royal Hospital. Later, Tony suffered another cardiac arrest and was transferred to Castle Hill Hospital where he underwent surgery. After spending several days in intensive care, including his birthday, he left hospital over a week later.
'The paramedics said afterwards that without CPR, those first few minutes would have made so much difference if untreated and that they would have had nothing to work with when he got to hospital. I'm so thankful that I had the first aid knowledge to be able to give him CPR within seconds of arresting.' said Alvin.