May 27, 2022: This week, St John hosted a joint drop-in event alongside medical technology development company Rapid Response Revival to help Members of Parliament learn lifesaving first aid skills, discuss our charity's work and raise awareness of the urgent need to improve survival rates from sudden cardiac arrests.
More than 40 MPs, including prominent backbenchers, attended the session in Portcullis House and took part in practical CPR demonstrations delivered by St John Ambulance volunteers Martin Parsons (Advanced First Aider) and Debra Morris (Community Advocate). Together they have had personal experiences of managing a cardiac arrest and delivering first aid information sessions to communities across the country.
In the UK, 100,000 people die suddenly from cardiac arrest. It is one of the nation's biggest killers, killing more people than cancer.
Each year, 60,000 sudden cardiac arrests happen out of hospital. Currently, fewer than one in ten people survive and it is believed this statistic would improve if more people were trained in providing CPR.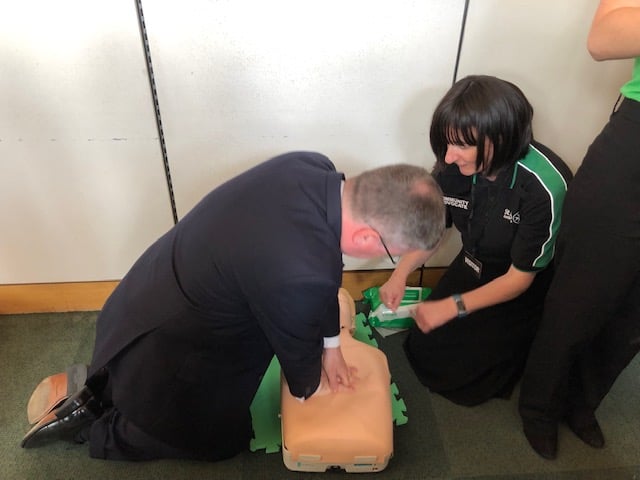 Our Medical Director Dr Lynn Thomas and Policy & Public Affairs Officer Kit Bowerin spoke with MPs to discuss how St John Ambulance's team of clinically trained volunteers has delivered over 1.5 million hours of activity since March 2020 supporting the nation's response to the pandemic.
We also introduced MPs to our Public Access Trauma First Aid Kits - lifesaving resources, aiming to increase survivability following stabbings, terror attacks and other serious incidents. Last year, St John led a partnership to develop new Government-approved standards for PAcT kits.
We outlined to MPs how expanding public access to these resources and defibrillators will help save lives and prevent people dying unnecessarily from out-of-hospital cardiac arrest and other life-threatening injuries.
Policy & Public Affairs Officer Kit Bowerin said: "We know that speed is everything when it comes to out-of-hospital cardiac arrests. Survival rates in this country lag far behind other nations. As the nation's leading first aid and health response charity, our training in CPR and work with partners on widening access to early defibrillation is tackling that gap.
"We were pleased to see so many Parliamentarians joining us to understand the vital role that first aid training and better defibrillator access can play in saving lives."
To find out more about our latest work on PAcT Kits visit: https://www.sja.org.uk/press-centre/press-releases/st-john-public-access-trauma-kits-hopes-to-save-more-lives/