June 13, 2022: St John Ambulance, a leading provider of Mental Health First Aid training, and wellbeing specialists Rightsteps, today announced a partnership to deliver end to end support for Mental Health First Aiders in the workplace.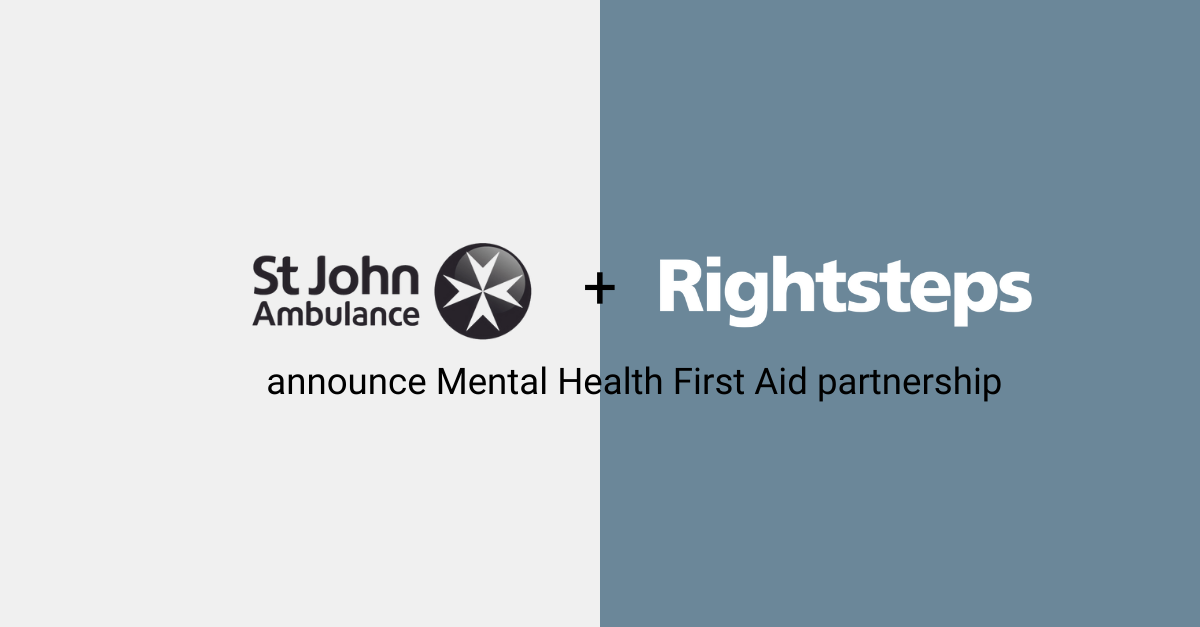 This unique collaboration brings together the high-quality practical skills training provided by St John Ambulance with ongoing supervision and support provided by Rightsteps clinicians once the Mental Health First Aiders return to the workplace.
Andrew New, Head of Education and Training Products at St John Ambulance, said: "The pandemic has put a sharper focus on mental health, and it is increasingly recognised that support in this area is just as important as physical first aid. As one of the nation's most experienced first aid training providers, we've responded to this demand with practical, clinically developed sessions for the workplace that give participants the knowledge and skills to support their own and their colleagues' mental health needs with confidence.
"By working in partnership with Rightsteps, St John Ambulance is helping employers to access a unique package of mental health training and aftercare support for their employees taking on this incredibly important, but potentially challenging, role."
Rightsteps is part of Turning Point, a leading social enterprise with over 55 years' experience of delivering mental health and social care services. Julie Bass, CEO of Turning Point, said:  
"This training has proven benefits in raising awareness about workplace mental health and in reducing stigma. However, Mental Health First Aiders may struggle to maintain appropriate boundaries without the right support. 
"Safeguards are essential if employers are serious about improving mental health. Extra support will not only protect Mental Health First Aiders, but also enable them to give colleagues the best possible help." 
Kate Davis, an experienced Mental Health First Aider who now trains others, said: "It's easy to become very involved if a person is unwell, distressed or upset. 
"The Mental Health First Aid training is great, but those who volunteer need to know they have somebody they can turn to. This is especially true if they're supporting multiple people at the same time or haven't the capacity to support someone."
More than 500,000 people have received Mental Health First Aid training since the government-funded scheme launched nearly five years ago, according to figures. The Rightsteps team developed their support offer in response to growing concerns about some of the challenges facing Mental Health First Aiders around maintaining appropriate boundaries and the risk that they are exposed to situations that adversely impact on their own mental wellbeing. 
Delivered by qualified therapists, Rightsteps offers confidential 1:1 support to Mental Health First Aiders and small group sessions to encourage volunteers to share their experience and support each other. The Rightsteps support offer is fully aligned with the expectations and content of the St John Ambulance course which has been developed with clinical experts and takes a whole person approach to supporting mental health in the workplace.
Employers who utilise the services of both St John and Rightsteps will be well positioned to meet many of the recommendations in the Government's 'Thriving at Work' study into better supporting employees, including those with mental health problems, to remain and thrive in work.