June 23, 2022: St John Cadets will form the centrepiece of St John's 2022 St John's Day celebrations this Saturday, 25 June, when hundreds of Members of the Order of St John, volunteers and staff will return to St Paul's Cathedral for the annual St John's Day events and Service of Commemoration and Rededication. This is the first time the charity has been able to do this since the start of the COVID-19 pandemic.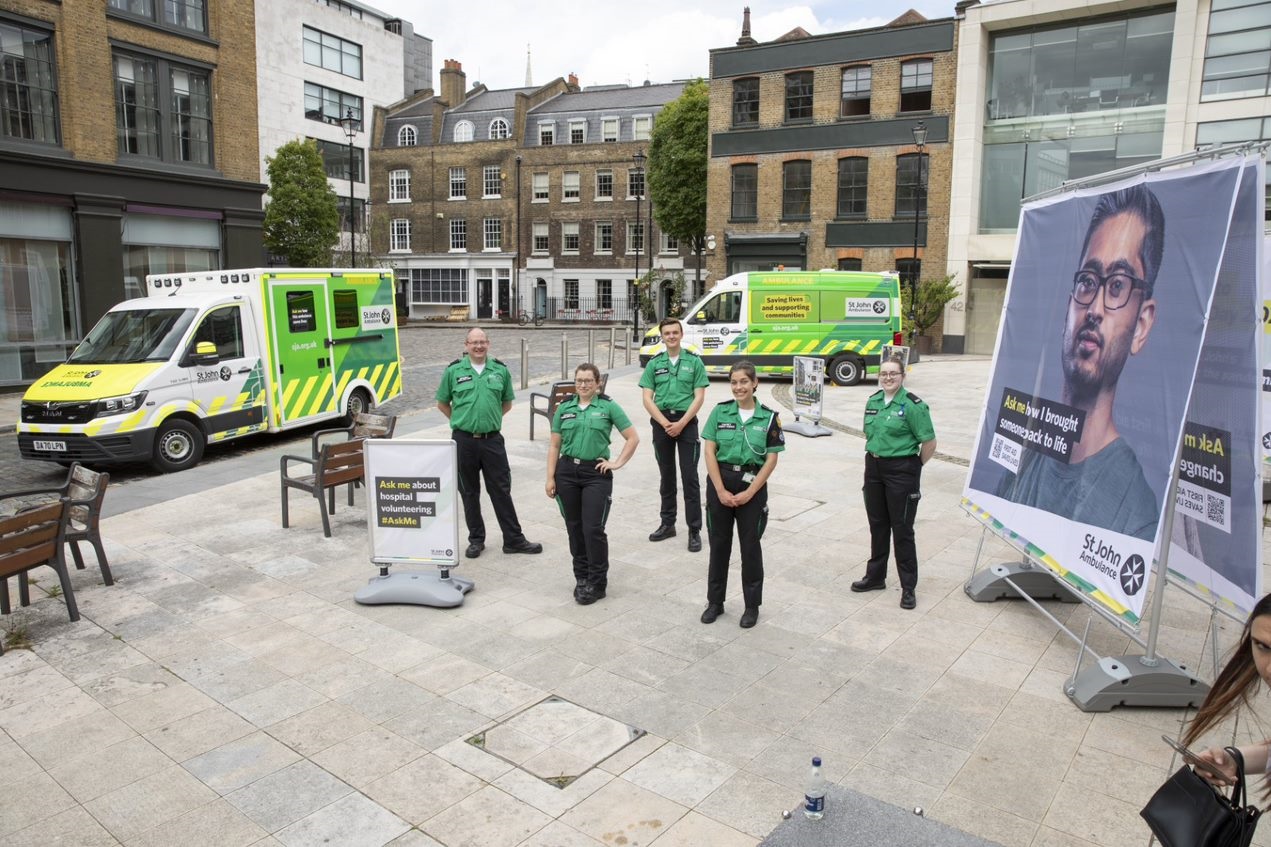 With 2022 being the centenary of the formation of the first St John Cadet unit in England (in Gateshead in 1922), the day's events focus heavily on celebrating the work of the charity's Cadets with a contingent of several hundred young volunteers aged between 10 and 17 years old expected to arrive from all over the country to take part in the day.
In the morning, hundreds of young people will be marching through the streets of London from Smithfield to St Paul's, proud of their contribution to their communities. During the pandemic, the Cadets provided invaluable assistance in vaccination centres as part of the NHS Vaccination Programme. They also found ways to continue meeting and training when face-to-face gatherings weren't possible, using videoconferencing technology to ensure that they kept their skills up-to-date. As the country started to return to normal, they eagerly resumed their regular work alongside adult volunteers, providing first aid cover in the community and at events, delivering training in St John units and training centres around the country, and getting involved in the charity's many innovative new youth programmes.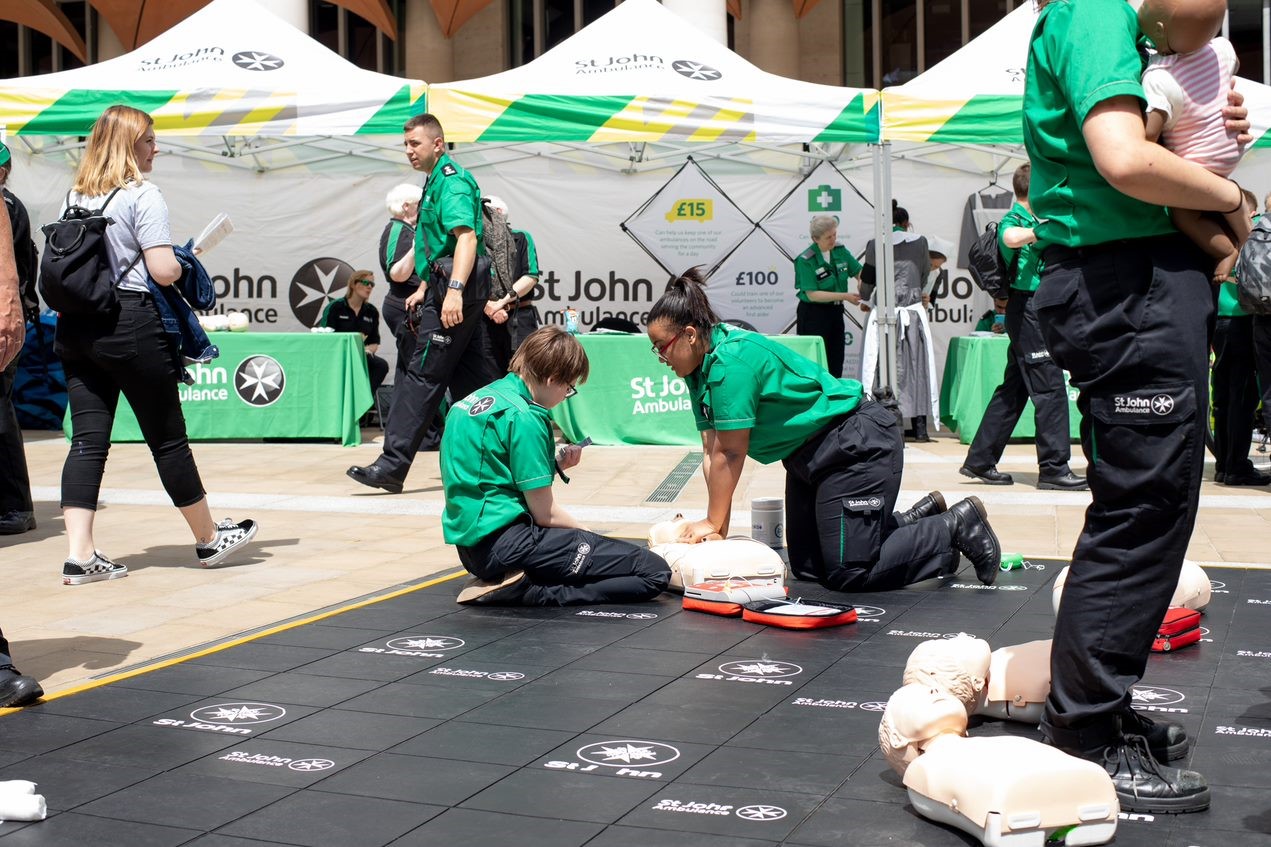 Later in the day, the charity's District, Regional and National Cadets of the Year will once again have the privilege of lining the western steps of St Paul's when several VIP guests and many hundreds of St John people arrive for the annual Service of Commemoration and Rededication.
The event is made even more exciting with the presence of Cadets and other colleagues from St John Priories and organisations from many different countries, as they conclude the current week of Order of St John Grand Council meetings which St John England has had the honour of hosting this year.
Outside St Paul's between 9am and 5pm there will be a chance for members of the public and all those attending the events in the Cathedral to engage with and find out more about the work of St John in England. A range of displays have been created to explain some of these activities:
The Cadets will have a gazebo focused on their 100th birthday, and young volunteers will be present to talk about their St John training, demonstrate first aid skills and even report on the day for St John's communications channels. Adult volunteers will also be on hand to explain the charity's various youth initiatives including new programmes such as Young Responders and NHS Cadets
A group of Cadets and Student Volunteers (university-based volunteers) will be running an eight-hour CPR-a-thon which members of the public can get involved with
St John's long heritage will be explored by the team from the Museum of the Order of St John in Clerkenwell
Three new vehicles used by the charity will be on display for members of the public to explore. One of these is a box-body ambulance which St John uses to support the NHS, another is a first aid unit which will include information on St John's community projects and Mental Health First Aid, and the third is an electric car used in a variety of support roles
Anyone wishing to volunteer with St John can talk to the team about how to enrol and learn first aid
There will be an opportunity to find out more about how to donate to the charity to help it continue its vital life saving mission
Music will be provided by the charity's ever-popular Isle of Sheppey Band, entirely made up of local volunteers
Finally, the charity's life-sized mascot, Bertie Badger, will be there to add to the fun, record some videos for TikTok and social media and pose for photo opportunities with families.
Georgina Heron-Edmends, the charity's National Cadet of the Year for 2022, said: "This year's St John's Day promises to be a very exciting and busy day and it is wonderful that we are able to return to St Paul's once again in this, our Cadet centenary year. I'm looking forward to participating in the day, to meeting many of my fellow Cadets, not only from England but from all over the world, and to sharing a memorable day with all those who can attend."
To find out more about St John Ambulance and its centuries-long history, visit www.sja.org.uk or museumstjohn.org.uk. Learn more about the work of the charity's volunteers in 2022 by searching on our website for our ongoing national #AskMe campaign.