July 21, 2022: St John Ambulance is seeking new Volunteer Vaccinators ahead of the drive to boost people's immunity against Covid-19 this autumn. 
Between now and September, the first aid and health response charity hopes to recruit and train 5,000 new vaccinators in areas of England where they will be most needed. A full list of locations is below, and people can find out more and apply now at: www.sja.org.uk/volunteer-vaccinator   
Craig Harman, St John Ambulance's acting Chief Operating Officer says: "We've been playing a vital role in helping deliver the NHS Covid-19 vaccination programme since it began. 
"Our original vaccination volunteers have given more than a million hours of their time, and now we need more Volunteer Vaccinators to administer Covid and flu jabs this autumn, as well as ensuring we're ready to support any surges in demand for vaccinations. 
"Many of the vaccinators I've spoken to over the last year and a half say that giving people their jabs has been one of the best experiences of their life. 
"The satisfaction of protecting people and keeping the pandemic at bay is enormous, plus being part of St John opens up a whole range of extra volunteering opportunities where people can help their communities, like sharing lifesaving first aid skills or supporting our brilliant programmes for young people." 
St John Ambulance's call for additional vaccinators follows Friday's announcement by the Government that the priority groups for vaccination are being expanded and everyone over 50 will be offered a Covid booster and a flu jab this autumn.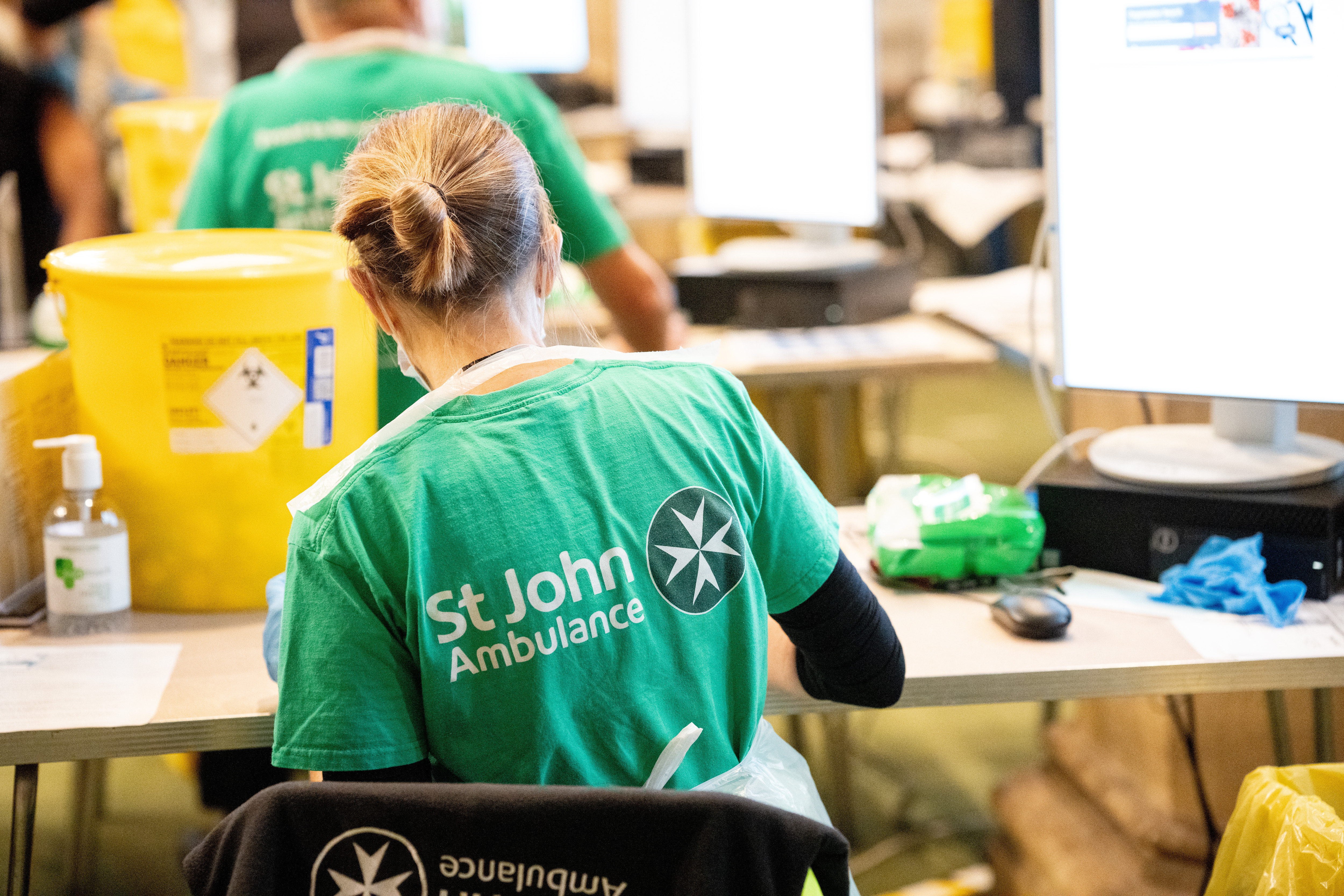 St John Ambulance's work on vaccination is a vital element of the charity's role as the nation's health reserve and a trusted partner to the NHS. 
Dame Ruth May, Chief Nursing Officer for England says: "Volunteers have made a vital contribution to our world-leading vaccine programme. With their help, the NHS has so far delivered more than 126 million doses of COVID-19 vaccine.
"We can only live safely with Covid when we have high levels of protection and we are continuing to support people to get vaccinated, particularly those who are vulnerable or those who haven't yet received their first dose.
"With our Autumn drive set to offer boosters to people aged 50 and over, health and care staff, people who live in care homes and those who most need extra protection, our fantastic volunteers help us ensure people across the country continue to benefit from protection offered by the vaccine."
The efforts are part of more than 1.5 million hours the charity's support for communities on the frontline of the Covid-19 pandemic – including work in hospitals, as the nation's ambulance auxiliary and on community projects. 
St John Ambulance needs you!
The places where St John needs more Volunteer Vaccinators are: 
Bristol

 

Cambridgeshire

 

Cheshire

 

Coventry

 

County

Durham

 

Cumbria 

 

Derbyshire

 

Devon

 

East Sussex

 

Essex

 

Greater Manchester

 

Hampshire and the Isle of Wight

 

Humberside

 

Kent

 

Nottingham

 

Lancashire

 

Lincolnshire

 

London – East, South

& West

 

Merseyside

 

Northumb

erland 

 

Norfolk

 

Nottinghamshire

 

Shropshire

 

Somerset

 

South Yorkshire

 

Staffordshire

 

Suffolk

 

Warwickshire

 

West Midlands

 

West Yorkshire

 

Wolverhampton