"I've always been really interested in medicine, so when I saw the advert for St John volunteers I jumped at the chance. Normally I'm a First Aider, but during the COVID-19 pandemic I've been volunteering in a hospital A&E department.
I arrived in the emergency department on my first day, and soon found people asking me all sorts of questions: "are you a paramedic?", "can you cannulate?".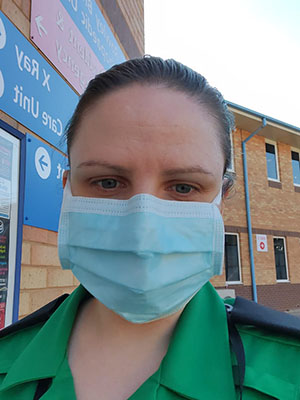 I was quickly shown how to do an ECG (a test to check the heart's rhythm). I spent the rest of the day working with a friendly Healthcare assistant, helping anyway I could. Before I knew it, it was two in the afternoon and my first shift was over.
Just as I was leaving, I noticed a patient I had spotted earlier. He was in one of the CDUs (clinical decision units) waiting to be taken home. He was all alone, so I sat and talked to him for a while, until the nurse returned from her break. I found out about his family, his career before retirement - his whole life.
"This felt like the biggest impact I made all day, giving an elderly patient 20 minutes of respite from the boredom of A&E."
During this pandemic, the Emergency Department is much quieter than usual. The patients, nurses and doctors are still here, as well as all the other staff that make up the workforce of a hospital, still giving their all. What's missing is the family, the friends, and the companions of the patients. Left alone for long periods, they have no comfort from loved ones, nothing to alleviate the boredom.
This is where I feel we, as volunteers, make the biggest difference – the human element. Talking to patients, comforting them, even just making sure they have had a drink and something to eat.
On my second shift I was placed in Resus. This is where the most seriously ill patients are treated. The first patient we saw had suffered a cardiac arrest. Sadly, the patient was too sick to be treated and it was decided that palliative (end of life) care was to be undertaken, to provide as much comfort as possible.
Knowing the time would come soon, I went to hold the patient's hand. She was all alone, as even now her family was not allowed on the ward. I thought I was doing well, but eventually I started to cry.
"It's very hard to cry when wearing a surgical mask."
After taking a break to calm myself down, I went back in and the patient's family were allowed to say goodbye. I'm glad I held her hand, but I almost felt guilty - being there instead of her family. Now I see it was an honour, to give someone comfort when no one else could.
In my time volunteering in the Emergency Department at St Peter's Hospital, I have done many things I never thought I'd do, and things I didn't know that I could do. But I have loved every second of it.