Posted 19th July 2021
The quick-thinking security team went into action as soon as they were alerted that a customer had taken ill while in the centre. They had been put into the recovery position by a member of the public and staff at a nearby store had called for an Ambulance, but when Dual Services Manager Mark arrived on the scene he discovered the person was no longer breathing.
He quickly radioed for the defibrillator and the security officers applied the pads so the machine could analyse the casualty and deliver the first shock. CPR was carried out by a member of the public and the security officers with more shocks being delivered until the ambulance arrived.
Thanks to my training with St John Ambulance, I felt secure in my first aid skills and was able to apply that knowledge in this lifesaving situation. Mark, Dual Services Manager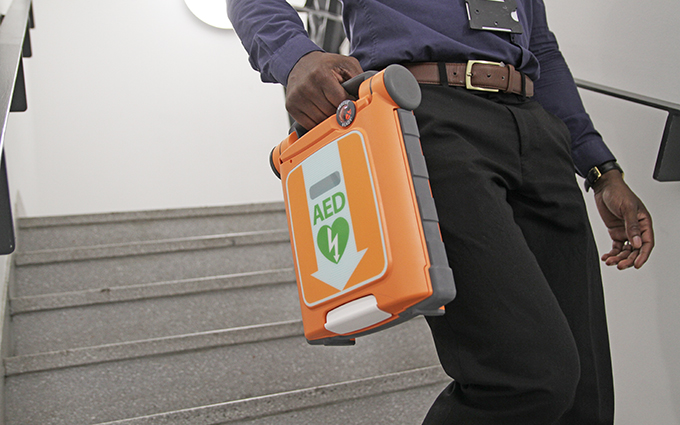 Thankfully the centre received news later that day that the customer had been stabilised and was in an induced coma. Then, a few days later they received a phone call from the persons son who informed them that their condition was stable and amazingly, the following week, received an update from the family to say they were up and about.
Sandra, Resources Manager, added: "The training that was provided by St John Ambulance meant a member of our staff was able to confidently perform lifesaving assistance in a recent emergency situation. We highly recommend everyone consider not only first aid training but also having a defibrillator on location for situations like these. Defibrillators truly are a lifesaving piece of kit to have."
Helen Knibbs, Workplace Training Manager for the Warrington area for St John Ambulance, said: "We can't praise the shopping centre staff highly enough for being ready to act quickly in an emergency. Their actions and the swift deployment of the centre's defibrillator undoubtedly saved their customer's life. It just goes to show how vital this life-saving piece of kit and training in first aid can be."
Well done to all involved, you should be incredibly proud of your actions. Helen Knibbs, Workplace Training Manager for the Warrington area for St John Ambulance
"It is always fantastic when we get to hear that one of our customers has saved a life either using the knowledge they have gained through our training, or with equipment purchased through our supplies business."
If you have a story to share, please get in touch! We'd love to feature your story to help us spread the word about the importance of learning first aid and having the right equipment on hand to save a life.
Check out our defibrillator buying guide to find out what you need to know when buying and installing a defibrillator for your workplace or community.


Find first aid courses near you:
Watch how to use a defibrillator