The guide covers six key first aid techniques: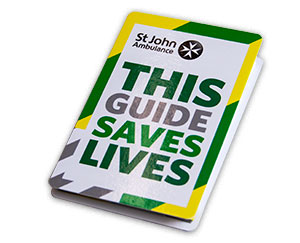 Choking
Severe bleeding
What to do when someone is unresponsive
Recovery position
CPR (cardio-pulmonary resuscitation)
Heart attack
This guide is only available to UK residents and we can only send one per request. If you live outside the UK, check our online first aid advice and free downloadable first aid posters, or download our free mobile app.
Coronavirus update: Due to the coronavirus pandemic, we only have a small team working in our office. As a result, orders for first aid guides will take longer than usual to arrive.