It's important to make sure your first aid kit is well-stocked with appropriate first aid supplies for your workplace. For example, if you work with hazardous substances, work remotely, or don't have access to running water, effective eye wash is essential.
You should replace used items as soon as they are used so that they are not missing from your kit in case of emergency. Some items within your first aid kit can expire. Items that have passed their expiry date should be disposed and replaced as they may not be effective and can start to deteriorate, making them unsafe.
We recommend you check the expiry date on your first aid products, write the dates down and then stick a reminder in your diary. Download our check list to help you keep track.
Do plasters expire?
Yes, over time, plasters can lose their adhesiveness. If your plasters are sterile, the wound pad can also lose its sterility.
Do bandages expire?
Yes, expired bandages can deteriorate over time and lose their sterility.
Do wipes expire?
Yes, sterile cleansing wipes which have expired may no longer be sterile and can dry out and be ineffective.
Do gloves expire?
Yes, expired gloves may not protect you from exposure to blood borne pathogens and other infectious materials due to the potential loss of functionality and sterility.
How do I check the product expiry date?
Understanding the important information you need to keep track of on your product label. Labels will typically show you: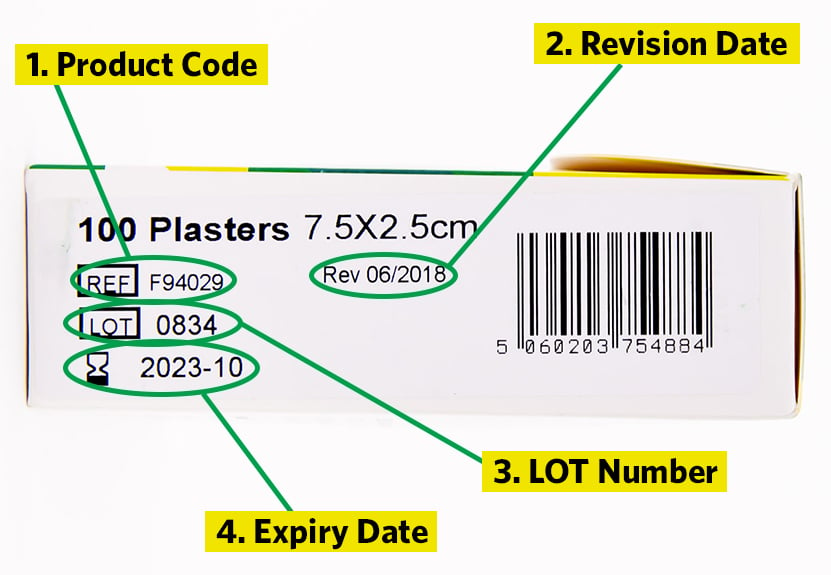 Product Code (REF) - This tells you the unique product number which you can search our website for or quote to customer services when you need to replace your expired products.

Revision (Rev) Date - This tells you the year and month the product artwork was last updated.

LOT Number - Products are made in batches, this tells you the batch your product belongs to. If there is a recall or product safety update, this is the number you would have to check to see if your product has been affected.

Expiry Date - This is typically shown after an egg timer symbol, this tells you the year and month the product expires and when you need to replace your products.