Monday 20 March, 2023 - Lifesaving trauma first aid kits donated by a cardiac arrest survivor were this afternoon [19 March] presented to the St John Ambulance volunteers who helped to save him at the Brighton & Hove Albion AMEX stadium.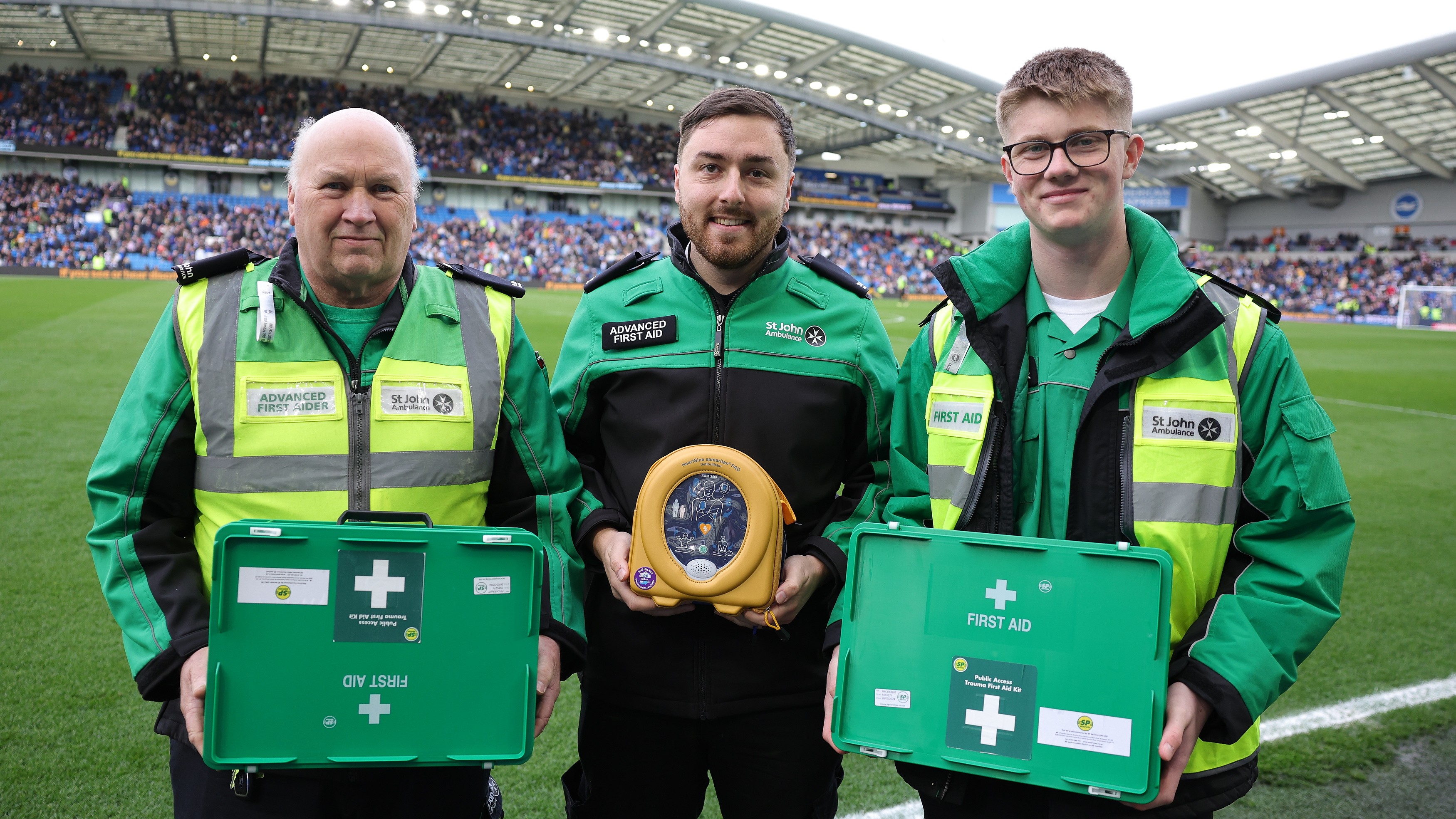 Photo cap: Left to right - Peter, Declan, Myles
When 73-year-old Bob Whetton, a lifelong Nottingham Forest fan, collapsed to the ground on his way into a match in October and stopped breathing, the first aiders rushed to give him CPR and use a defibrillator to restart his heart.   
Within minutes Bob was conscious again and asking what the score was before being taken to Royal Sussex County Hospital where he made a strong recovery.  
Yesterday at half-time in the match against Grimsby Town, the equipment was presented on behalf of Bob, from Grimoldby, Lincolnshire, by St John cadet Myles Donald, who played a key part in saving his life, despite being only 14 at the time.   
While St John Advanced First Aiders Declan Dexter, 28, and Peter Bennett, 66, gave chest compressions and used the defibrillator, Myles operated the radio. He made an essential priority call to alert others, including the club medical team's doctor and kept base control informed of Bob's progress.   
Myles, 15, of Eastbourne, said "I'm really happy to represent Bob today.   
"We plan for the worst events, so I knew what my role was that afternoon and I'd operated the radio lots of times before.   
"Although I was calm at the time, it was shocking to be part of such a massive thing, to see Bob with no life in him then come round and ask what the score was."   
Former public sector finance director Bob – who is also campaigning for more first aid equipment at local football clubs – said: "Expressing my gratitude to the people who saved my life is one of the hardest things I have had to do, because how do you thank people for that?   
"I'm delighted for Myles to be representing me as he is such a brilliant example of the many young people who serve their communities.  
"My wife and I wanted to do something to recognise these volunteers and the work of St John. This is our modest way of doing that and raising awareness of the importance of first aid training and equipment."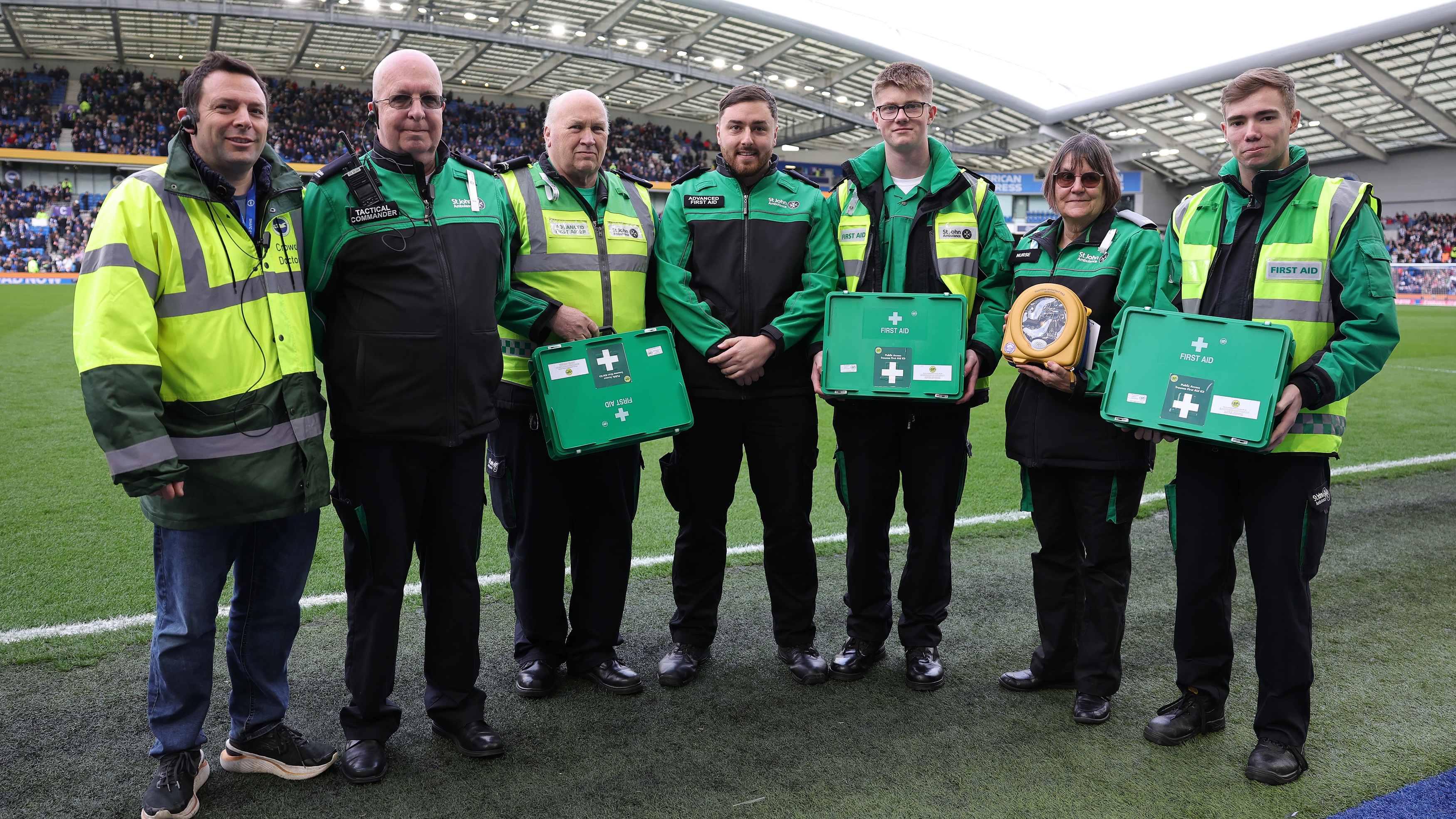 Photo cap: Left to right - Rob, Trevor, Peter, Declan, Myles, Sally, Luke
Peter, manager of Southwick unit, West Sussex, where one of the trauma kits will be used, said: "These kits could be useful at any of the public events we provide first aid at because you never know when you are going to come across a severe bleed situation."   
"It's very generous of Bob and an honour to receive them from him, when we were just doing what we're trained to do."  
The donated trauma kits include military-grade wound dressings, tourniquets and other vital components and will be used by St John Ambulance units in Sussex.    
If you would like to hear more about St John's life saving work, how you can support the charity by volunteering or to donate please visit: www.sja.org.uk  
Or help St John champion lifesaving skills in your area by becomming a Community Advocate, visit: https://www.sja.org.uk/get-involved/volunteer-opportunities/volunteer-roles/community-advocate/