Tuesday 2 May, 2023​: Thousands of spectators heading to the Capital for the Coronation of the King Charles III and Queen Camilla on 6 May will be kept safe and well by 300 St John volunteers; with many more on hand to help at local events and screenings across the country.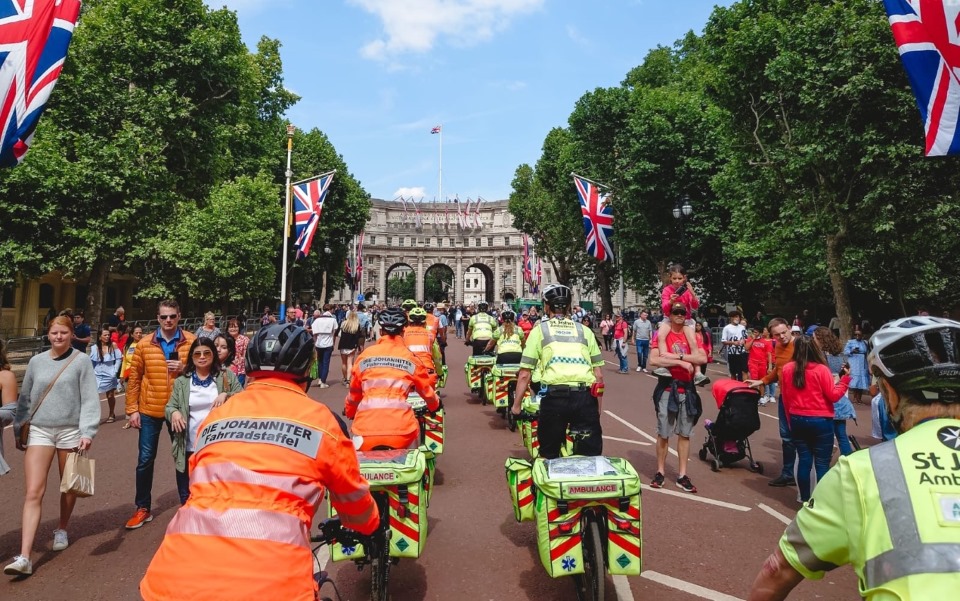 Highly trained first aiders, including 60 healthcare professionals who volunteer for the health response charity, will be stationed at 21 pop up treatment centres across London, with Cycle Responders and ambulance crews giving care and medical treatment to those who need it.  
As a qualified first aider and volunteer, St John Ambulance Chief Executive Martin Houghton-Brown will also be on duty. He said:  
"We are deeply honoured to have HM The King as the Sovereign Head of our charity; we have a long history of service to the Royal family and consider serving the public at Royal events a very special part of our first aid duties. 
"Every one of our volunteers will be standing ready, trained and equipped to help the public, should they need us.   
"We are delighted that our young people are also involved, with 80 cadets providing medical treatment at the Coronation, including 17-year-old Cadet of the Year winner Kyle Dean-Curtis and another 50 watching the service at Their Majesties invitation at St Margaret's Westminster.  
"We are a multi-generational charity and each one of us serving through the weekend will be especially proud to tell our grandchildren that we were on duty at the Coronation of King Charles III." 
On Sunday evening, St John volunteers will continue to keep people safe at the start-studded Coronation Concert at Windsor Castle.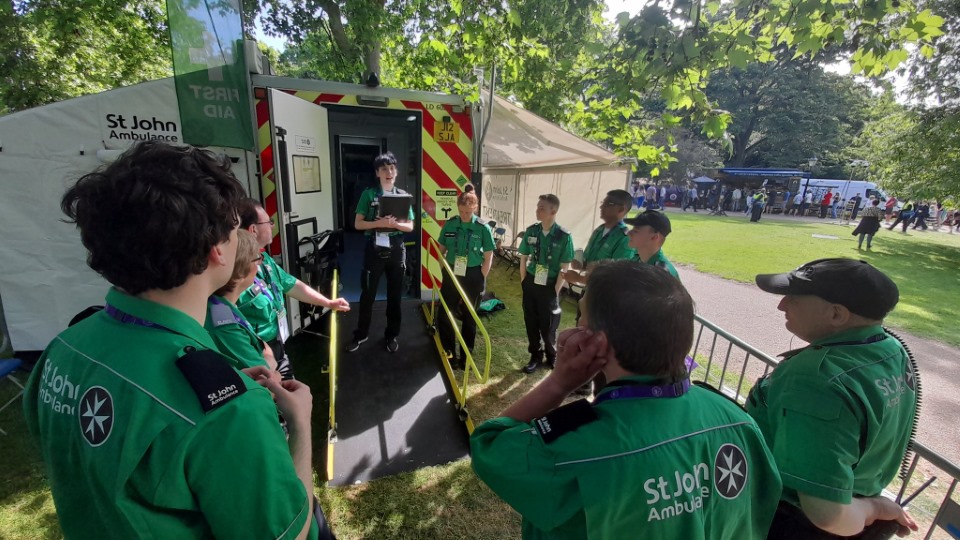 St John has also played a pivotal role in other royal celebrations. Thousands of St John volunteers kept the public safe during the Platinum Jubilee for Queen Elizabeth and in the same year, gave round the clock support to crowds queuing to pay their respects to the late Queen. Over the years, several more have given their time to 'The Trooping the Colour' and the Coronation of the then Princess Elizabeth in 1953. 
For those travelling into the Capital, St John Ambulance's Medical Director, Dr Lynn Thomas, has shared advice to help people celebrate safely saying: "If you're out and about in London during the Coronation this weekend or enjoying a street party in your local area, please keep yourself safe by planning ahead.  
"Bring food and plenty of water to keep yourself hydrated. Wear comfy shoes, and pack blister plasters too, if you're expecting to be standing for a long time. 
"If we're lucky with the weather, please make sure you wear sunscreen and a hat. Consider bringing an umbrella-this can be used to help shade you from the sun, or a downpour. 
"The pollen count is high at the moment so take antihistamines if you struggle with hay fever and if you're asthmatic, do remember to bring your inhaler. If you take medicines for any condition, remember to carry them with you or at the very least have a copy of your prescription with you.  
"But lastly, across the country hundreds of St John volunteers will be out on duty helping everyone to celebrate safely. So, if you're feeling unwell or injured, please head for a St John Ambulance treatment centre or a first aid point, where we will be happy to help." 
More information about St John Ambulance's work and first aid advice is available here: www.sja.org.uk