Wednesday 11 October 2023: Ahead of Restart a Heart Day (Oct 16) St John Ambulance is continuing its mission to build more resilient communities by launching three key actions – "Phone, Push, Press" – to help people feel confident to use a defibrillator to increase cardiac arrest survival rates.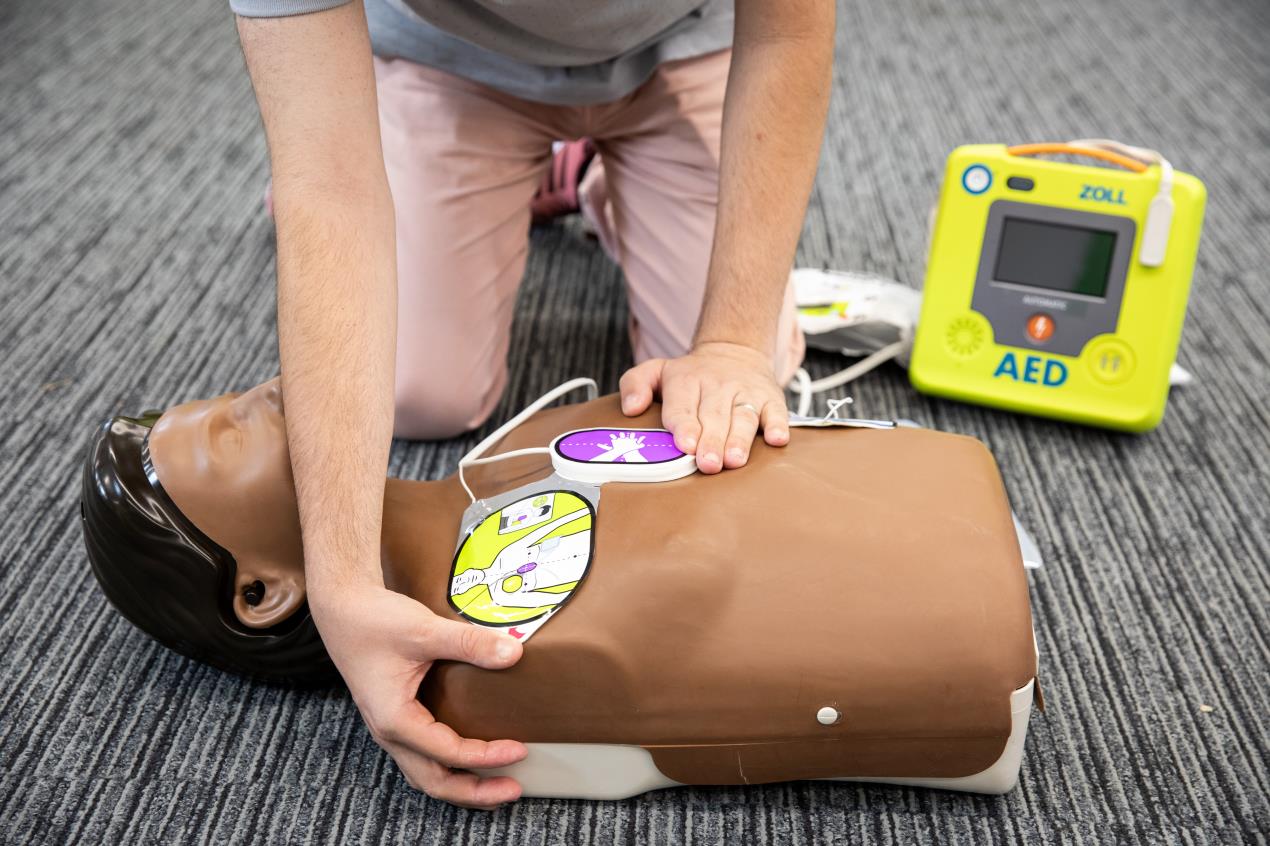 A cardiac arrest is a medical emergency where the heart has effectively stopped beating. In this situation every second counts. But in a life-or-death situation, especially if trying to save a loved one, adrenaline surges are common, and can cause someone to panic if they don't feel confident or don't know how to help.
To help those responding to an emergency, St John's new "Phone, Push, Press" message references the three key steps needed to get help, start CPR and use a defibrillator, to give someone the best chance of survival. The charity hopes it will help the public feel more confident, stay calm and take swift, decisive action.
"Phone, Push, Press" explained:
Phone – Call 999. Whilst early chest compressions and early defibrillation are vital, so is calling an ambulance. If you have someone to help, the ambulance call handler can tell them where to find the nearest defibrillator.
Push – Start chest compressions (CPR) on the casualty to help keep the heart and brain oxygenated until the ambulance arrives, or someone brings you a defibrillator.
Press – Press the button on the defibrillator to give a shock to the casualty. If you have defibrillator, continue CPR whilst someone else turns on the defibrillator and places the pads.
Follow the devices instructions, it will tell you when to stop CPR. If the heart rhythm is shockable the defibrillator will tell you to press the shock button (some defibrillators are automatic and will shock for you).
The first aid and healthcare charity has long campaigned alongside its partners to help reduce the number of lives lost to out of hospital cardiac arrests. There are about 30,000 a year and yet, the public's use of lifesaving defibrillators remains low.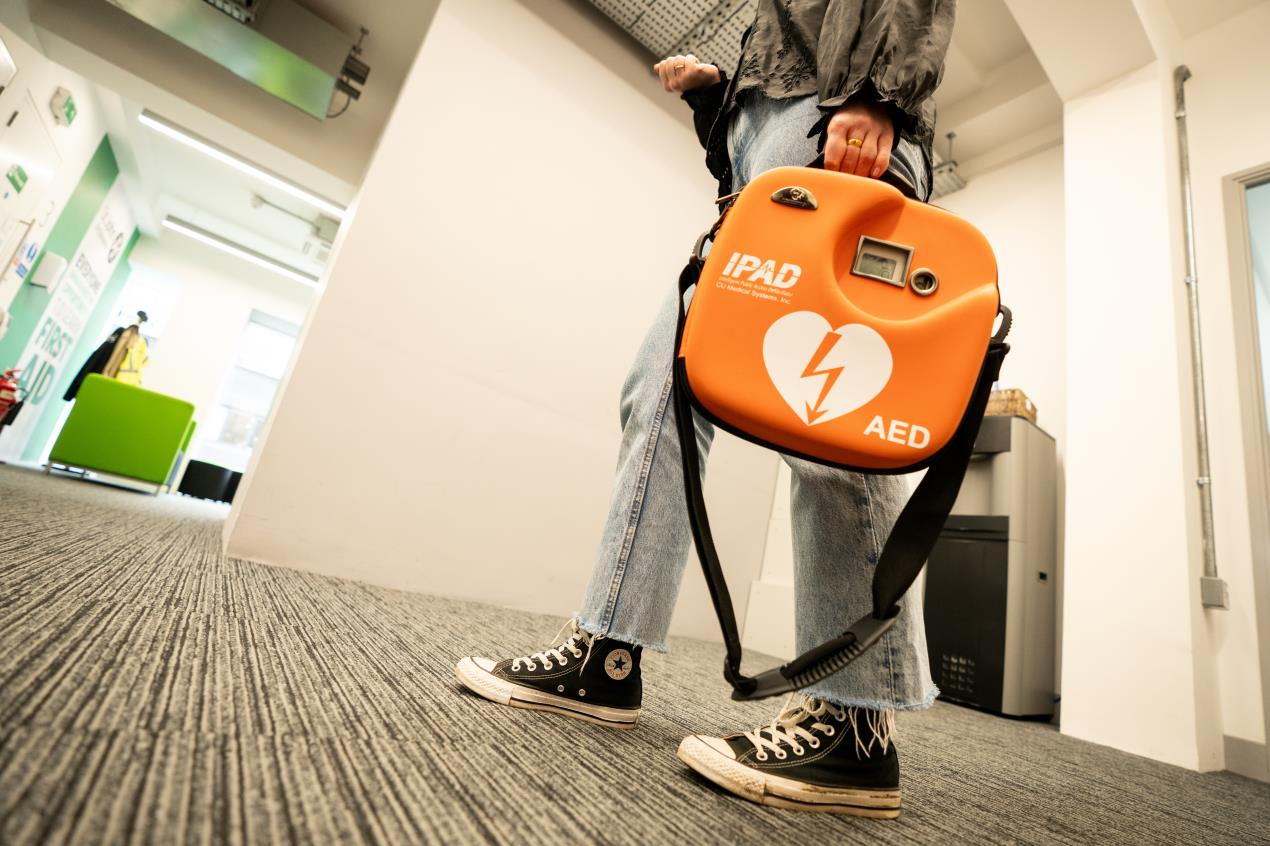 National Clinical Lead for Resuscitation at St John Ambulance, David Bowen, said:
"A cardiac arrest can happen to anyone at any time, and the sooner a person receives chest compressions and defibrillation, the higher their chances are of survival.
"It isn't what we at St John, or our NHS colleagues do that matters most - it's what the public can do to help in those first crucial moments. The next leap forward in increasing survival rates from out of hospital cardiac arrests will come by increasing the number of people in our communities that are trained and confident to Phone, Push, Press.
"Defibrillators are simple and safe to use, tell you what to do and won't shock unless they need to. We would love to show you how simple they are, so as part of this year's Restart a Heart campaign, our volunteers will be sharing their lifesaving skills with local communities through free first aid awareness sessions.
"If you can't make a session, our St John Ambulance website has many fantastic lifesaving resources to help people learn these lifesaving skills for free online. Simply visit www.sja.org.uk.
"The worst thing you can do in a cardiac arrest emergency is do nothing. "Phone, Push, Press" is a simple and catchy reminder of the actions you need to take – and we hope will help save more lives."
St John Ambulance is running events in communities across England throughout October as part of Restart a Heart Day - a national awareness campaign led by the Resuscitation Council UK which aims to create more lifesavers by teaching CPR and defibrillator awareness.
Events will also be held at notable public spaces such as Birmingham New Street and East London Mosque to give as many people as possible the confidence to give CPR and use a defibrillator in an emergency.
More information about Restart a Heart Day and defibrillator awareness sessions is available online: www.sja.org.uk/RestartAHeart