Wednesday 31 May, 2023: St John Ambulance are partnering with local secondary schools to deliver its flagship health volunteering programme, NHS Cadets.  
NHS Cadets, a joint partnership programme with NHS England, offers 14–18-year-olds skills and experiences in healthcare as well as a better understanding of the 350 career options in the NHS from management, to accountancy, estate management, catering, as well as clinical careers and beyond.   
NHS Cadets works at opening up opportunities so young people can kick start their careers in the NHS by teaching them the skills needed, with workplace experience to help enhance their CVs. Students learn essential first aid and moving and handing skills, as well as drug and alcohol awareness, mental health awareness, leadership skills, and take up opportunities to volunteer at their local NHS hospital.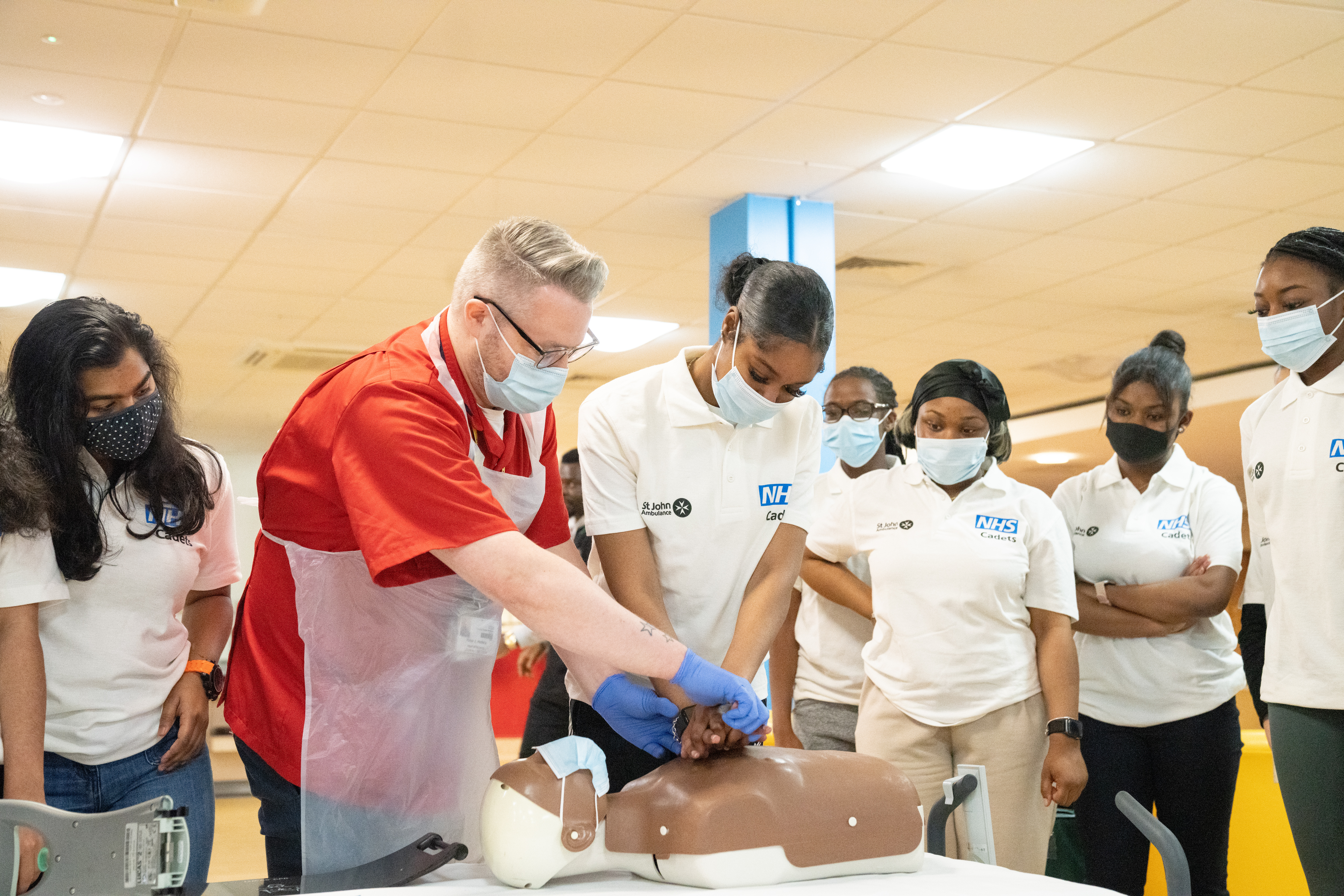 Launched in 2020, the 36-week programme targets young people including those growing up in care, young carers, young people with learning difficulties and disabilities or those not in education employment or training. 
The 90-minute weekly sessions have, up until now, been delivered by local youth workers. 
But now St John has opened up NHS Cadets to interested schools and colleges to deliver the programme, with training and resources provided by the NHS Cadets team.  
Neil Wilson, Assistant Principal for Personal Development at Waterhead Academy, in Oldham; said: "To become one of the first secondary schools in England to deliver the St Johns Ambulance; NHS Cadets programme is a fantastic privilege for the Academy and an excellent opportunity for our students.  
"Whilst undertaking the qualification, our Cadets will also benefit from a range of presentations and practical sessions delivered by health care professionals such as doctors, nurses, paramedics and associated specialists. The qualification will further equip our students with a range of skills and attributes to enable them to pursue health related post-16 education and training courses as well as providing them with the most valuable life skill of all; the required knowledge to potentially save an individual's life."  
Other schools offerings students the NHS Cadet programme include the following:  
Liverpool:   
Alt Bridge School  
Sandfield Park  
Cavendish School  
Childwall Abbey School  
Thistley Hough Academy    
London:  
Mossbourne School  
Saracens School  
Clapton Academy  
The Grove School 
Hampshire:
Embley School  
Baycroft School 
Essex:  
Brentwood School 
Portsmouth:  
The Portsmouth Academy  
Nottingham:  
West Notts College  
Manchester:  
Waterhead Academy  
St John NHS Cadet Team Leader, Jane Fonteyn said: "We are delighted to offer NHS Cadets to more young people in schools and colleges – the feedback we hear from young people is amazing and we encourage any interested school to get in touch with us to discuss how we can work together. 
"Being a NHS Cadet can really help give you skills and confidence and the enthusiasm to try out volunteering in your community." 
Emma Easton, Deputy Director, Voluntary Partnerships at NHS England said: "It's fantastic that NHS Cadets is now being offered in schools. This supports our work to increase diversity and inclusion within our future workforce and will help equip even more young people with valuable skills to be better able to support each other and introduce young people to the benefits of volunteering. 
"We hope that, through working more with local schools, NHS Cadets can help to reduce health inequalities, by reaching young people who might not otherwise gain these types of skills or would not ordinarily consider a career in health". 
To find out more about the NHS Cadets youth programme, how to join as a young person, or help out at as a youth leader, please visit the NHS Cadets page.