Monday 30 October 2023: A woman who tragically lost her brother to a sudden cardiac arrest has teamed up with St John Ambulance and Resuscitation Council UK (RCUK) to train hundreds of people in lifesaving skills at the East London Mosque and London Muslim Centre. 
Samina Kiyani's brother died 28 years ago, at just 21 years old when he suffered a sudden cardiac arrest at their home in Manchester.  
Sadly, time elapsed between him collapsing and being found. CPR was administered, but it was too late to save his life. Although this was beyond anyone's control, this story serves to highlight the importance of time when someone is in cardiac arrest.
Every second counts when the heart stops beating, and the key to survival is early chest compressions and early defibrillation. If performed within 3 to 5 min of collapse, this can increase survival rates by 50-70 percent. 
To honour her brother, Samina has been doing everything she can to raise awareness of these vital skills within the South Asian community, which can face greater risks of cardiac arrest with sometimes limited access to lifesaving resources. 
On October 28, Samina joined forces with St John and RCUK to teach lifesaving skills to hundreds of attendees at the East London event. The free sessions, offered in English, Bengali, and Urdu, covered how to help someone in cardiac arrest by performing CPR and using a defibrillator.  
Samina said: "I never want any family to go through the same heartbreak we have been through. 
"The loss of my youngest brother really highlights why CPR and defibrillators are so immensely important. It's crucial that more events and awareness sessions like this happen across ethnic minority communities in the UK - where we know people are more likely to have a cardiac arrest and less likely to know what to do - so more lives can be saved."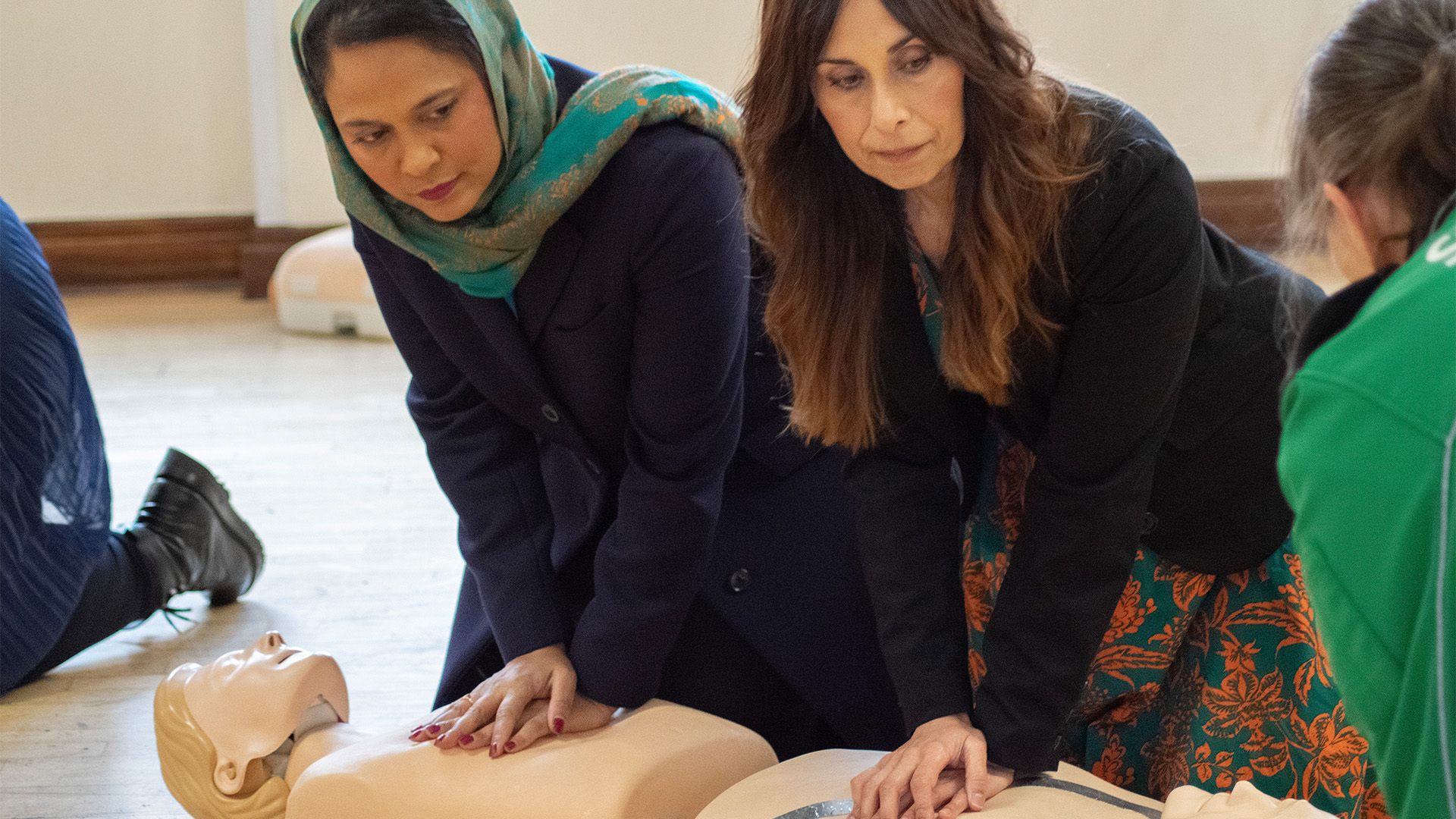 This latest event in East London is one of many set up to mark Restart A Heart, a RCUK initiative. This year the campaign aims to improve access to lifesaving skills and defibrillators in disadvantaged areas across the UK. Recent data reveals that 61 percent of people lack confidence in using a defibrillator, and access to this device is limited in many regions of London. 
James Cant, CEO at RCUK, said "RCUK is committed to ensuring that everyone across the UK has the skills they need to save a life, and that is why we have led the Restart A Heart campaign for the past 10 years. Our aim this year is to ensure we encourage communities to put defibs where they are needed most. 
"Anyone looking after a defib in East London – such as those in charge of pubs, sports clubs, community centres, mosques, churches and village halls – should make it accessible to the public 24/7. 
 "It's essential that everyone knows publicly available defibrillators are designed to be used by anyone, you don't need training - it will provide clear instructions and talk you through what you need to do."
More than half of people (59 percent) living in ethnic minority communities feel they lack the knowledge to perform CPR, which is significantly higher compared to rest of the UK. People from these communities are statistically more likely to suffer a cardiac arrest, yet just 22 percent have received training in the last 10 years, compared with 41 percent of the UK population in same period. 
Ellie Cavilla, Community Locality Manager for St John Ambulance said: "At St John we're doing everything we can to try and break down barriers for every community, so anyone wanting to learn lifesaving skills has the opportunity to do so.  
"We're holding awareness sessions in different languages, running events like the one in East London through our CPR Network, as well as creating new resources for communities translated with clear videos and descriptions. Everyone should be able to access these skills, so they may have the confidence needed to save a life one day."