14 June 2021: First aid and health charity, St John Ambulance, has today unveiled its new brand campaign: Ask Me. Outdoor, radio and digital advertising has been designed to make the public stop and think about all of the vital roles St John plays in people's everyday lives.

Over 2,000 posters and billboards feature stunning portraits of volunteers and patients with provocative quotes inviting the public to ask them about their real-life St John experiences and you can find out more online via the Ask Me page.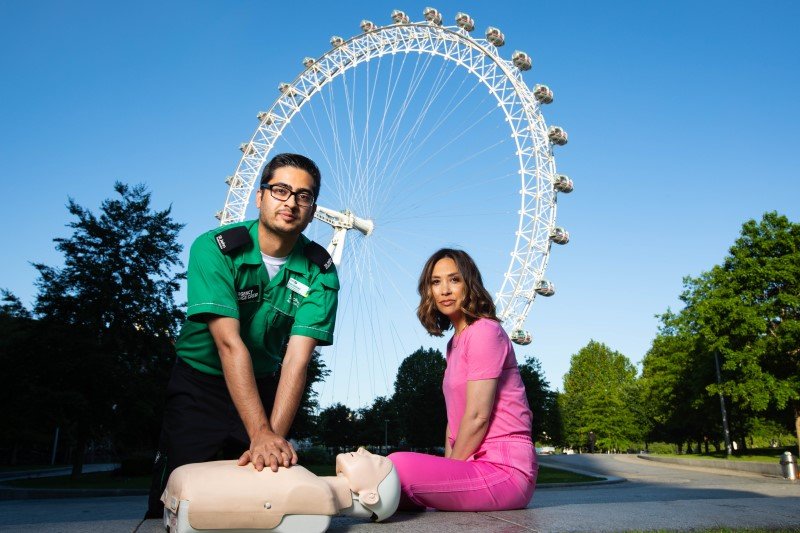 Among the volunteers featured in the campaign is Zain Osmani from Brighton, who joined St John as a child and has just completed a degree in medicine. Zain was joined by broadcaster and musician Myleene Klass for the campaign launch in London today.
"It's time to tell the world what we do"
St John Ambulance's chief executive, Martin Houghton-Brown said: "We have long played a vital role in supporting the health of the nation – through world wars to a global pandemic.

"Despite thousands of people interacting with St John, millions don't completely understand all that we do; many don't even know that we have ten thousand young people as a vital part of our charity's work, for example.

"We are well known for our presence at events but, even then, the fact that we are volunteers is often missed. There are so many ways in which St John serves communities, from training and education to homeless outreach services meeting the needs of the most vulnerable.

"The last year has seen our profile raised through our Covid-19 response supporting the NHS but, as the world starts to return to normal, we need to remind everyone why St John matters every day, not just in a national crisis.

"It's time to tell the world what we do, and who better to tell the world than our own incredible St John people, saying, Ask me."
Lifesaving skills
Since the start of the COVID-19 pandemic, more than 30,000 St John Ambulance volunteers have given over 840,000 hours of time to support the nation's health in hospital wards, on ambulances and – most recently – through the vaccination programme.

In addition – by moving the majority of training online – the charity's workplace training team managed to reach more than 100,000 people with lifesaving skills, mental health first aid and other courses.