Around 6,000 young people in communities in London, West Midlands and North-East more willing to step in to help a first aid incident following a Young Responders session
St John Ambulance's innovative street first aid programme - Young Responders – has been making a big impact in boosting first aid confidence amongst secondary school students across the UK.
Young Responders – which teaches young people aged 11 to 25 life-saving street first aid skills from what to do if a friend is spiked or stabbed has delivered workshops in schools to over 6,000 students since launching in March up to August, and in its first six-month period.
And its impact is already being seen with just 7% of students saying before the Young Responder workshops they would feel confident in helping someone in need of first aid. This jumped to an incredible 94% following the sessions.
The £1m Young Responder programme, funded by the People's Postcode Lottery, is a targeted programme unlike any other St John youth programme, delivering workshops in schools in under-served communities in London, West Midlands and the North-East, where young people may be at risk of street violence or crime.
Trinity Academy student Emanuele De Felice, 16, who attended a Young Responder workshop said, "I found the session good, learning about spiking was good as it's something that happens in real life and knowing what to do is beneficial to you, those around you as well as people you don't know."
The Young Responder Programme which has currently reached 7,000 young people and aims to reach 15,000 young people by the end of the year is working with other charities and regional partners to deliver sessions.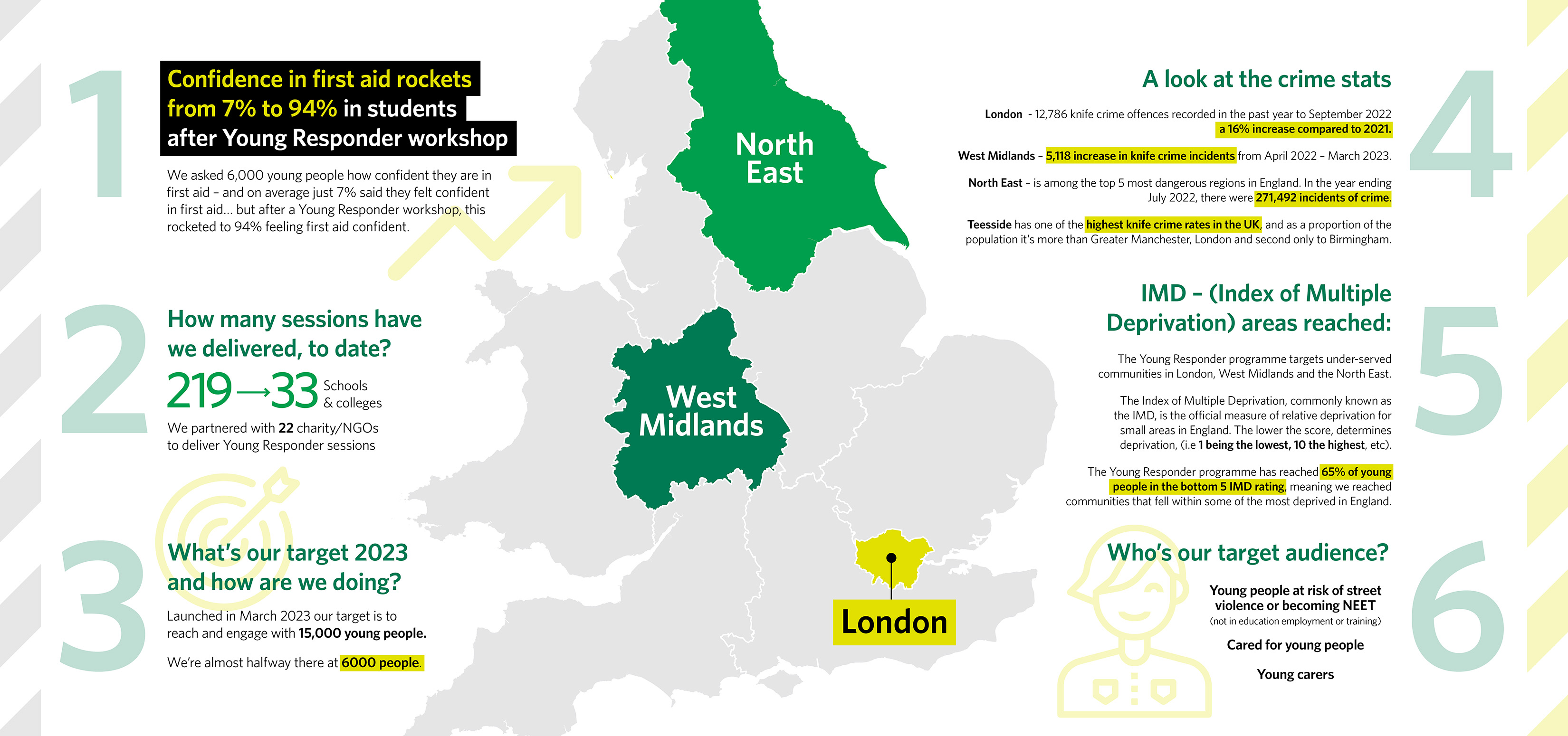 British Youth Council backs St John Ambulance Youth motion for Government to promote street first aid in public health campaigns
Director of Youth and Education at St John Ambulance, Paul Evans, said "The impact and engagement we are seeing with Young Responders is just fantastic. It's clear there is a need as we are getting interest from schools across the country. As we know, sadly, street crime and violence are on the rise and Young Responders teaches relevant skills for situations young people may well find themselves in…..what to do if their mate has had too much to
drink, what to do if someone they know has been stabbed, and what you can use to hand such as a T-shirt to stem bleeding.
He added, "Although some young people do learn basic first aid at school, most never have the opportunity to learn how to respond to a first aid emergency and how to improvise when something happens on the street."
St John Ambulance is a member of the British Youth Council and at their recent Annual Council Meeting (ACM) held on World First Aid Day (September 9) a delegation from St John youth programmes put forward a motion on street first aid, which was successful.
St John Ambulance Youth Volunteer, Rebecca Edwards, who presented the motion to the British Youth Council said, "We urge the UK Government to include street first aid education in its public campaigns and help keep young people safe when faced with serious bleeding, drink spiking, or drug intoxication. Teach young people what to look for, how to respond, and how to improvise when something happens on the street. Teach them how to keep themselves and others safe."
The successful motion, backed by Girl Guides and the Scouts, means the British Youth Council will highlight the issue and support St John Ambulance in its bid to see street first aid education pushed up the Government agenda and included in Government first aid public health campaigns.
St John previously campaigned successfully for first aid to be taught in schools and in 2020 it was added to the school curriculum in state schools in England.
St John is hoping to continue the Young Responder programme and extend to other areas in the UK if it can secure funding into 2024.