08 July, 2020: Volunteers from the nation's leading health and first aid charity have given over a million hours – more than a century's worth of time – caring for people during the coronavirus pandemic.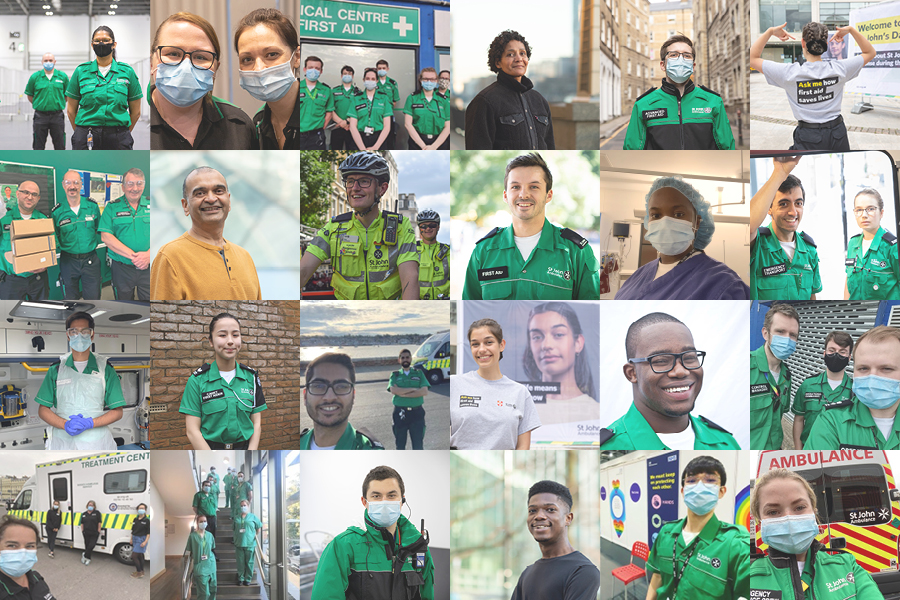 St John Ambulance teams are active in hospitals, as emergency ambulance crews responding to 999 calls, providing vital community services, and supporting the NHS COVID-19 vaccination programme. 
You can find out more about some amazing St John people here: sja.org.uk/AskMe 

"One million hours of St John volunteers' time puts the nation a million hours closer to the end of this pandemic," said the charity's Chief Executive, Martin Houghton-Brown. 
"When people ask me about the difference St John Ambulance is making, it's a million hours of looking after patients, from holding their hands and offering comfort, to providing the highest standards of clinical care; a million hours of freeing up doctors' time so they can work where they are most needed; a million hours given so that nurses have been able to take a breath. 
"It's a truly massive milestone for St John Ambulance's volunteers – this million hours adds up to over 114 years of their time spent supporting the nation during the pandemic – and our work goes on. 
"As restrictions on everyday life are easing and the nation hopes for 'Freedom Day' on Monday July 19, we still have thousands of people doing their bit to help beat this dreadful virus, hour-after-hour, every single day." 
Since March 2020, St John has devoted itself to the fight against Covid and supporting the nation's health. In 2021, vaccination alone has seen the charity's volunteers – including almost 30,000 new recruits – deliver more than half a million hours, including administering lifesaving jabs, in more than 400 venues all over England. 
Richard Lee, St John Ambulance's Chief Operating Officer said: "We owe all of our St John people – whether they were shielding to protect us all, on the frontline, or in supporting roles – a huge debt of gratitude. 
"Delivering a million hours of patient facing support has involved hundreds of thousands more hours of planning, training, recruiting, screening, administration, logistics activity and leadership. 
"Our support teams really are the unsung heroes of our million hour story." 
St John Ambulance's Impact Report tells of some of the challenges the charity has faced whilst battling COVID-19.
And here are some additional facts and figures to show how St John people delivered one year on the Covid frontline:
384,000

 masks supplied to volunteers, along with 

21,000

 boxes of gloves and 

177,000

 aprons

 

12,386

 

emergency ambulances deployed

, and 

153,277 ambulance crew hours

 delivered during the pandemic, to date

 

St John Ambulance vehicles travelled 

5.6 million miles

 

840,000 litres of fuel

 used in St John ambulances and other vehicles 

 

30,000

 individual student delegate packs for vaccination volunteers

 

156,000 hours

 worked by St John HR staff

 

28,000 online interviews

 for vaccination volunteers, conducted by a 

300-strong welcome team