Saturday 17 April: Volunteers from St John Ambulance were among those paying their respects to His Royal Highness The Prince Philip, Duke of Edinburgh in Windsor, today.
While COVID-19 restrictions and Prince Philip's wishes saw the funeral arrangements scaled back, and the public discouraged from visiting the town, a team of St John first aiders and clinicians were on hand – just as they have been at Royal occasions for more than 100 years.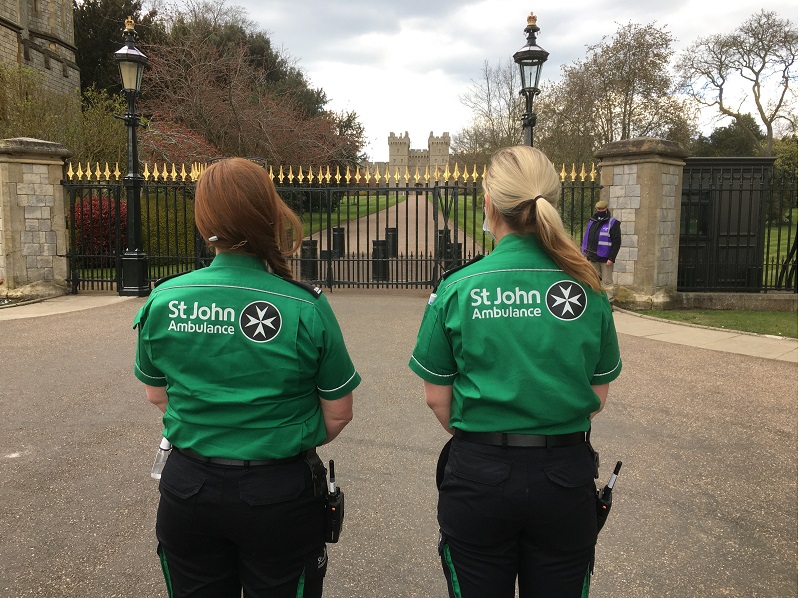 The charity worked alongside South Central Ambulance Service NHS Trust to ensure access to first aid, medical and ambulance care. 
Craig Harman, Ambulance and Community Response Director, said: "St John Ambulance has had the privilege of providing first aid support in Windsor as the nation prepared for and marked the funeral of His Royal Highness The Duke of Edinburgh. 
"It was an honour to be involved and we know that St John volunteers and employees have taken great pride in the support they gave." 
Her Majesty the Queen is the Sovereign Head of the Order of St John, which is an Order of Chivalry of the British Crown. And, as the Queen's consort, Prince Philip accompanied the Queen to a number of St John Ambulance engagements over many decades. 
St John is also proud to have worked with The Duke of Edinburgh Award since its inception; offering our Cadets and other young volunteers the opportunity to build additional life skills, confidence, and resilience. 
Our charity has a long and proud history of involvement with Royal occasions, including the funerals of the Queen Mother in March 2002, and Diana, Princess of Wales, in September 1997. St John Ambulance's first official public duty was providing first aid to spectators at the celebration of Queen Victoria's Golden Jubilee on June 20, 1887. 
Today's occasion saw far fewer St John volunteers deployed than for previous events, with around 50 volunteers and staff in attendance. Resources in place included treatment centres, ambulances, military aid posts and cycle responders. 
Meanwhile, as the world watched Prince Philip's funeral on television, St John volunteers around the country remained focused on providing support to the NHS during the COVID-19 pandemic, including giving their time as emergency ambulance crews and vaccination volunteers.
Find out more about St John Ambulance's work.