May 30, 2022: National first aid and healthcare charity, St John Ambulance, is proud to be working in partnership with BBC Radio Manchester to bring life saving skills to the 10 boroughs of Greater Manchester in a major new campaign – Three Ways to Save a Life - which launched on 25 May.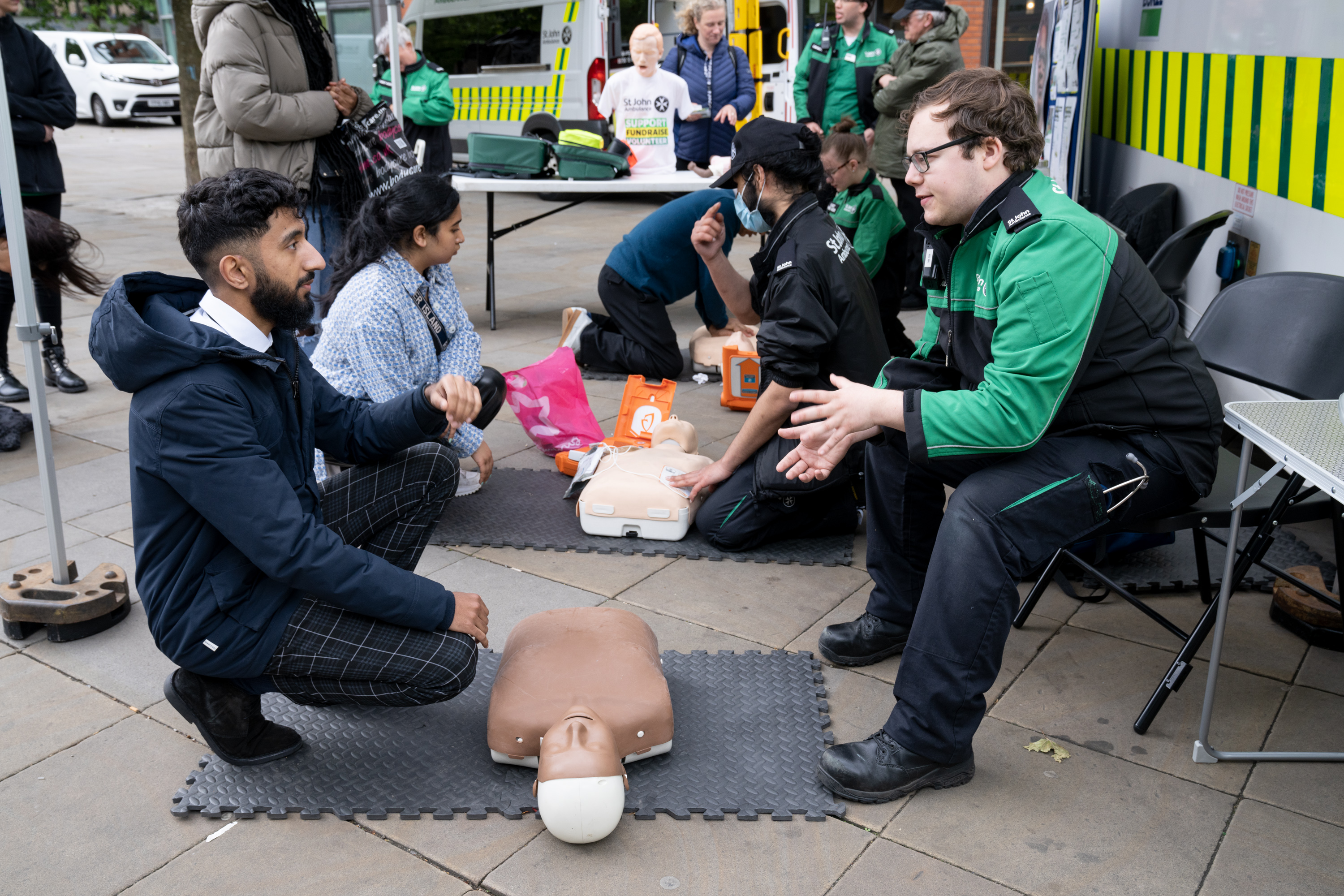 Following the fifth anniversary of the Manchester Arena bombing, the two organisations will be bringing essential first aid skills to members of the public and local organisations through a mix of public training sessions, on-demand training and virtual instruction.
The key life saving techniques to be taught include:
Delivering cardio-pulmonary resuscitation (CPR) and using a defibrillator
How to treat severe bleeding and catastrophic haemorrhage
How to treat someone who is choking
all of which will be reinforced with knowledge of Primary Survey and how to put someone in the recovery position.
Sessions will be delivered by the local St John Ambulance team of volunteers and trainers in Greater Manchester in a number of different ways – through planned events in public locations, at St John volunteer HQs in the District, on demand by local groups and organisations and through virtual sessions.
More than 220 people attended the first day of training in Piccadilly Gardens, Manchester.
BBC Radio Manchester's Executive Editor, Kate Squire, says: "We all know life saving techniques are vital in emergencies and we want to provide these skills to as many people as possible in order to make sure we save lives in any future emergency situation."
Figen Murray, the mother of Martyn Hett who died in the Manchester Arena attack is championing BBC Radio Manchester's campaign. "It's not good if people are not equipped to know what to do. They ought to be trained in life saving measures such as using tourniquets or applying pressure bandages. BBC Radio Manchester's campaign is absolutely brilliant, it's so needed especially with all the knife crime that's happening as well. I think society just needs to embrace that kind of skill."
Dr Lynn Thomas, Medical Director at St John Ambulance, said: "We're delighted to be partnering with the BBC on this new campaign. First aid is such an essential skill to have and we're looking forward to raising awareness of key techniques in a variety of different ways to people across the 10 boroughs of Manchester over the next few months."
Members of the Greater Manchester public and local groups who wish to enquire about the availability of trainers can do so by emailing savealife@sja.org.uk or by completing this form.