25 April 2022: St John Ambulance has launched a series of new specialist transport services for neonatal, paediatric and adult patients in the Midlands and North West of England.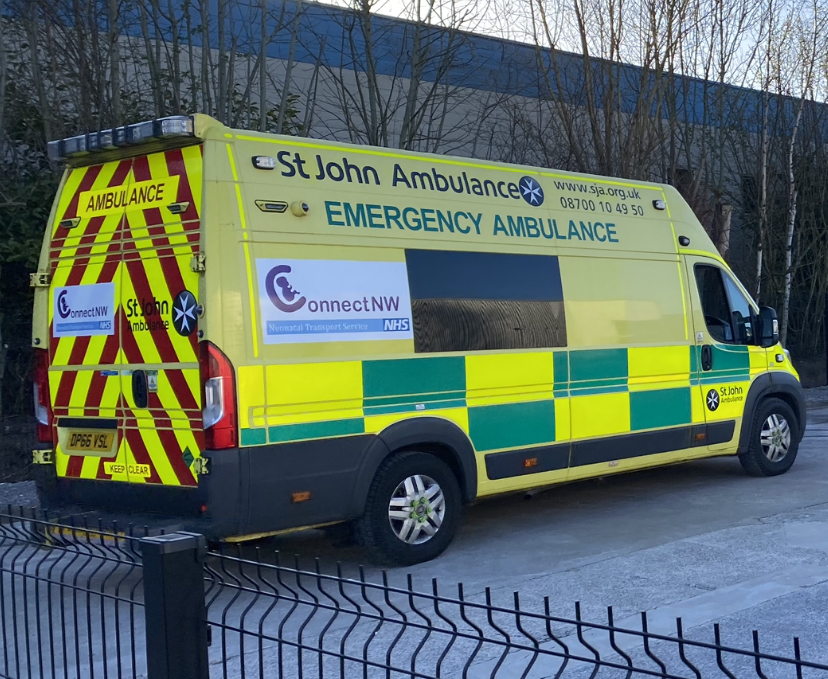 In addition to its already successful critical care services around the country, from this month the charity has partnered with North West and North Wales Transport Service (NWTS), Connect North West (ConnectNW) and CenTre to deliver patient transport services in these areas too.
The new partnerships will ensure patients and their families are cared for and transported by compassionate professionals with experience in responding to a wide range of clinical needs.
The service offered by St John is unique through its ability to be operated by employed crews, but also include a network of highly trained volunteers to support the services and ease pressure in times of high demand.
In East Midlands, the CenTre neonatal transport service will operate across Derbyshire, Leicestershire, Lincolnshire, Northamptonshire, Coventry and Warwickshire, Nottinghamshire and Rutland.  In commencing this service, St John will also welcome existing ambulance staff who want to transfer to St John from the NHS for further clinical experience.
As well as the neonatal service across the East Midlands, St John has launched its new service for paediatric (Comet), adult critical care (ACCOTS) and ECMO services. This is built on its successful Midlands wide regional Adult Critical Care Transfer Service ACCOTS which, was developed as part of the response to the COVID pandemic. The new Midlands Critical Care Transfer Services (MCCTS) contract is a new development to bring a service designed critical care fleet that can work with (?) all age groups of critical patients and improve resilience for the Midlands region's critical care systems.
In the North West, the charity will work with both the North West & North Wales Transport Service (NWTS) and the Connect North West (Connect NW) team who collectively provide bespoke specialist transport services for paediatric and neonatal intensive care patients across the North West of England and the North Wales areas.
St John Ambulance's Head of Ambulance Operations, Dan Bevis says: "We're delighted to be launching these partnerships bring years of experience in providing specialist critical care ambulance services to even more networks across the country.
"We know the very nature of these services can be incredible stressful for the patient and their families, which is why at St John we take pride in providing the very best level of care and expertise in these difficult situations, and working with clinical teams, help deliver the best outcome for that patient."
In the grip of the pandemic, St John deployed up to 100 ambulances each day to support ambulance services across the country, whilst continuing its delivery of specialist ambulance services too.  Since 2020, St John Ambulance crews provided over 200,000 hours to the COVID response.