TV stars, an Olympic athlete and a veteran explorer are among the celebrities volunteering with St John Ambulance in support of the NHS COVID-19 vaccination programme. 
Some are administering the vaccine while others have undertaken support roles, reassuring people ahead of their jabs and caring for them afterwards. 
St John Ambulance's Chief Commissioner Ann Cable said: "Our charity and the whole nation owe a huge debt of gratitude to every volunteer who is devoting such a staggering amount of their time to helping others. 
"You never know who you might meet when you go for your vaccination. As well as joining us in our biggest ever operation to support the NHS, I'm delighted that our celebrity vaccination volunteers are using their public profiles to encourage people to get the jab and raise awareness of the vital roles all of our St John people are playing in helping local communities throughout the pandemic. 
"Most of our volunteers aren't famous but every single one of them is an absolute superstar!" 
Since the pandemic struck, St John volunteers have been working tirelessly in hospitals, as emergency ambulance crews, in vital community projects, and as vaccination volunteers in more than 200 locations. 
The charity's volunteers have given more than half a million hours of their time supporting the nation's health over the last year. 
Celebrity volunteer quotes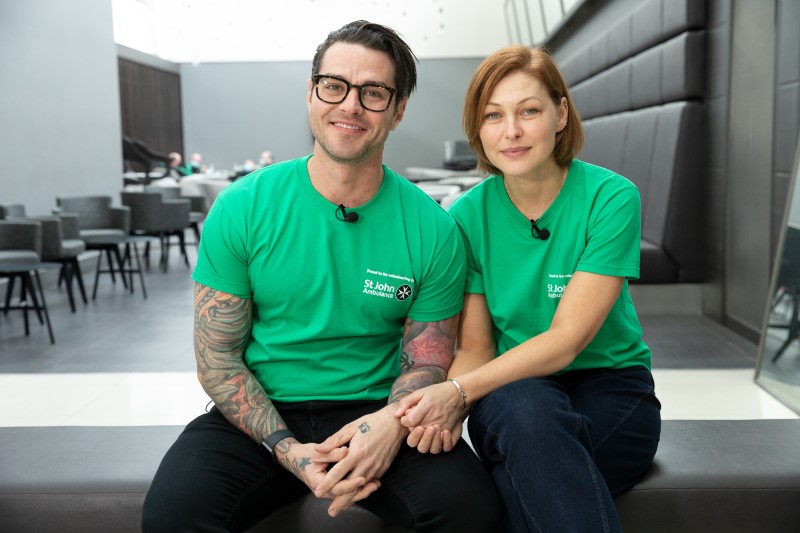 Husband and wife, Matt Willis, Busted band member, and Emma Willis, presenter of TV shows including The Voice UK, The Circle and Delivering Babies. Matt completed his first shift as a volunteer patient advocate yesterday (Monday April 26) 
Emma: 
"What really made us want to get involved was the feeling of uselessness over the last year. We wanted to help in some way and give something back. If we can be a tiny part of helping the vaccination process along its way and be an extra pair of hands when hands are needed, then I'll feel like we've done something to contribute." 
Matt: 
"I remember St John from backstage at venues and festivals. At the front there was either a paramedic or someone from St John stood in front of us. I'd recognise those jackets anywhere and it's a good feeling! Many of us have a lot of time on our hands right now and I want to be able to look back in 10/20 years and say I used that time wisely – we did our little bit and we helped in some way."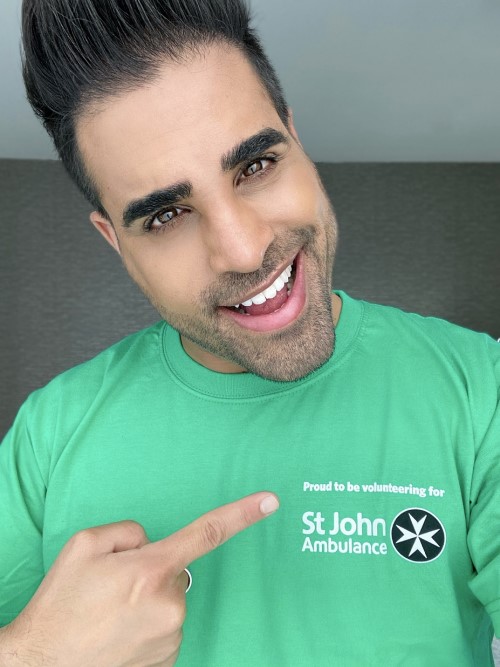 Dr Ranj Singh - NHS doctor, author, and Strictly Come Dancing contestant 
"Volunteering to be a vaccinator was something I didn't think twice about. I know how important it is and I wanted to help in any way I could. So doing it with St John Ambulance, whom I have supported for many years, seemed like the obvious choice. I have been absolutely blown away by the sheer dedication of both the training team and my fellow volunteers. Its feels like we're part of something very special. It's the best thing I've done in a while!"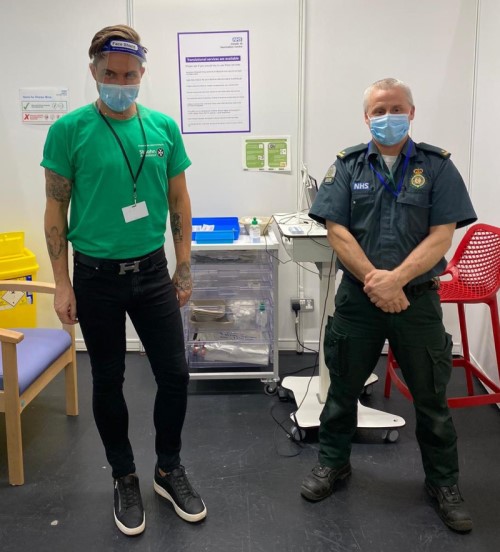 Bobby Norris – star of reality TV show The Only Way is Essex 
"This pandemic has affected all of us in one way or another and having found out first-hand how awful it really is, I decided that I wanted to do whatever I could to help others who are experiencing it. I am so grateful to be able to play my part by becoming a St John Ambulance volunteer vaccinator - the NHS is doing an amazing job and to be able to support them is an honour.
"The vaccines are the light at the end of the tunnel, and I've got past experience, so it was a no-brainer for me to join St John and do my bit. The training made me feel totally confident to go into the vaccination centre but I had no idea how emotional it would be to meet people who were so excited to be getting their vaccines. This is the best way for us all to get back to doing the things we love and taking part in it has given me a really good vibe of positivity."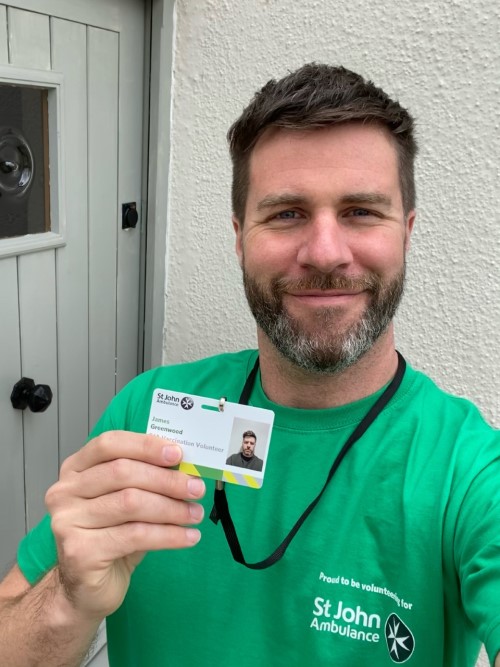 Dr James Greenwood – veterinary surgeon and BBC Morning Live personality 
"I saw volunteering as a vaccinator an opportunity to put my years of veterinary experience to good use and help get us all back to living a more normal life. Never having worked in human medicine before, it was a new challenge but the St John training has been fantastic and I felt fully prepared. Despite the inevitable 'first day nerves', once I had the administered the vaccine to my first human patient (and thankfully remembered not to give them a pat on the head or a tickle under the chin!) I was on a roll with the support of the whole St John army of volunteers. With the St John Ambulance vaccination teams, you really are in safe, compassionate hands.
"I haven't seen both my grandmothers now for well over six months. With every vaccine we administer, I see it as one step closer to me hugging my family and you hugging yours. The vaccination centres are full of hope and the future feels much brighter thanks to this monumental initiative."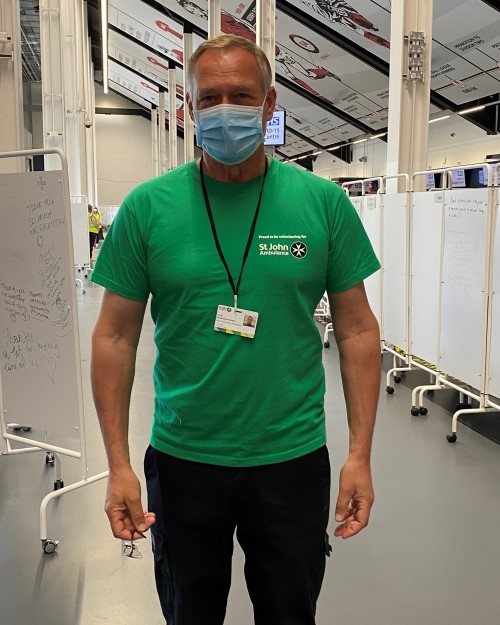 Sir David Hempleman-Adams – adventurer, polar explorer and St John Trustee 
"We are on the bow wave of history here. There has been a huge tragedy, but there's now light at the end of the tunnel. I've been incredibly impressed by the whole process, the way all the different aspects have come together and been rolled out. The training was enjoyable, there was a lot of support, both online and face-to-face. When I walked through the door in my green t-shirt, I felt very proud to be a member of St John.
"The atmosphere was buoyant, with the NHS staff, the fire brigade and St John people all working together seamlessly. There was no them and us, just each team helping the others. A lot of people receiving their vaccinations were very emotional, others were worried about social distancing, but the environment was highly COVID secure, which put them at their ease. The whole experience was humbling, and we owe a massive debt to all the volunteers who have responded to the call."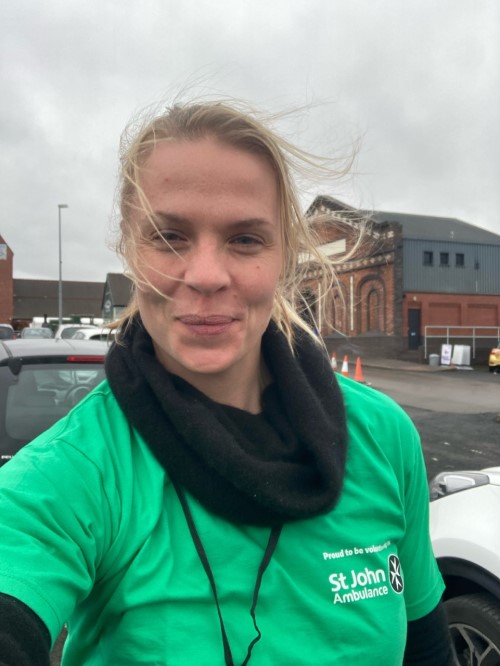 Dr Anna Watkins – world champion rower and double Olympic medallist 
"At the start of the pandemic I volunteered as a community responder, chatting with local people and helping them with things like shopping. But I looked at the doctors and other health professionals saving lives and thought to myself 'all I do is row backwards very quickly!' 
"So when I was offered the chance to train as a volunteer vaccinator with St John Ambulance, I didn't hesitate. The training was very well organised and thorough – as well as being quite fun and jolly! Unfortunately, I had to cancel my first deployment as a vaccinator as I was feeling unwell. But since then I've volunteered as an admin assistant in a vaccination cubicle. I had a lovely day and really enjoyed it. I'm the sort of person who feels energised in a crisis and I just want to do something practical to help." 
Visit sja.org.uk/one-year-on for more information about the support St John Ambulance has given the nation during COVID-19.