10th February 2022: Footballers, YouTubers and teachers are still top of the list when it comes to dream jobs for kids. However, new research from health and first aid charity, St John Ambulance, shows an unexpected impact of the Covid-19 pandemic as more than a quarter (28%) are now more likely to consider a career in healthcare.  
Over a fifth (22%) of the 11-18 year olds surveyed* have changed their mind on their future career ambitions since the start of the pandemic with one in eight (13%) now stating their dream job would be in healthcare, whether that's a doctor, nurse, or paramedic.  
Almost half (48%) claimed it was because of seeing saddening and powerful images of NHS staff and volunteers, caring for patients, which inspired their desire to help.  Meanwhile, 46% felt this change was because healthcare professionals have done an amazing job in the pandemic and 37% simply want to help people after the last two years. 
Sir Chris Whitty and Professor Jonathan Van Tam join Marcus Rashford, the Queen and the Duchess of Cambridge in the top five heroes for today's young people ahead of the Duke of Cambridge and tennis star Emma Raducanu, with 30% believing the nation's healthcare leaders deserve to be included alongside sporting stars and royalty. 
Top 10 public figures who have established hero status in the nation's hearts: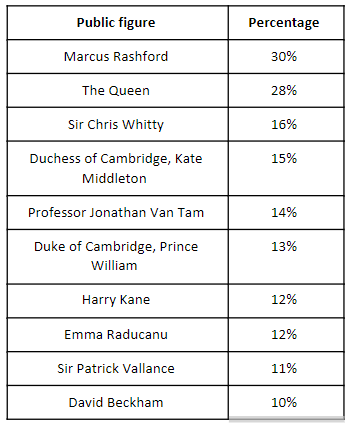 With the pandemic resulting in the majority (63%) of young people feeling more positive about healthcare professionals, those more inclined to work in the industry are taking sensible steps to find out more. Half (50%) are speaking to teachers about which subjects to study, 44% are actively speaking to people who work in healthcare to hear their first-hand experience and 38% are joining a youth programme which teaches relevant skills. 
This research focused on young people coincides with St John Ambulance celebrating 100 years of its cadet programme.  On Sunday 13th February 2022 the charity will be naming its National Cadet of the Year. 
Martin Houghton-Brown, CEO of St John Ambulance, said:
"These results fill me with such optimism and pride knowing that today's young people are passionate about creating healthier, safer and more resilient communities - although I'm not completely surprised as I recognise this from the many cadets who volunteer with St John.  Thousands of young people join us to get a taster of what a career in healthcare is like - for the opportunities to volunteer besides doctors, carers and paramedics, to get

hands-on experience

in first aid emergencies as well as learning vital life saving skills. But even if healthcare is not for them, the cadets benefit in many other ways. They become more confident, meet new friends and gain important life skills through the events and activities they experience which improve their physical and mental health. It all prepares them to support their families, friends, and communities, and tackle whatever life throws at them."

 
St John Ambulance youth programmes rely on volunteers and donations.  Ask Us how you can get involved and find out more about our Cadets programme.
*One Poll survey of 1000 UK children aged 11-18 surveyed via their parents 02/02/2022-09/02/2022