"I first joined St John Ambulance through the first aid society at my university. I come from a large family with lots of little cousins, so I wanted to be sure I'd know what to do if they ever needed first aid.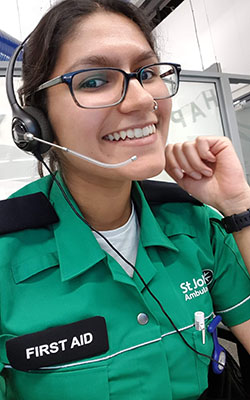 After the COVID-19 outbreak, I helped to coordinate the deployment of ambulances across London. I also volunteered in the Regional Operations Coordination Cell, which was set up to coordinate volunteers who wanted to help out in hospitals or as ambulance crew. 
 
I completed the COVID-19 Care Module and volunteered during the Moorfields Eye Hospital "cataract drive". I was among 80 St John volunteers who helped with pre-operative assessments and accompanying patients during the six-day event, designed to clear a backlog of cases caused by the pandemic. I've just tried to do my bit wherever I can.  
I wanted to volunteer for the vaccination programme because we've all felt the effects of the pandemic over the last year and as St John volunteers we're fortunate to be able to do something to help.
"Delivering the vaccine is a way to bring the world one step closer to the one we recognised before COVID-19. I wanted to be part of making that happen." 
I've completed the volunteer vaccinator training which I found to be really comprehensive, so I feel very confident about my new role and I'm excited about getting started. It's a step towards giving some normality back to people who've been stuck in their homes since last March.  
I work in TV and film visual effects as a compositor. That basically means adding computer-generated content to scenes that have been filmed or removing things that shouldn't be in there. I've seen my name in the credits of some major feature films alongside big stars like Liam Neeson. In 2019, I worked on 'Judy' – the film about Judy Garland – which was a really cool project as I got to assist on set and rub shoulders with Renée Zellweger and Michael Gambon. 
Before the pandemic, my St John role was mainly helping to plan first aid cover for events, or being on duty as a first aider. I love the feeling I get from spending a whole weekend doing St John things when I would otherwise have been at home.
"It makes me feel like I'm giving something back to my community and helping people who need it."
My family have always been an important motivating factor in my life. I've had first-hand experience of BAME patients accessing healthcare and I feel it's important to increase the number of St John volunteers from BAME backgrounds to help bridge the gap with patients who may not speak English as their first language.