29 May 2020: With Premier League football ready to kick off again and horse racing under starter's orders, St John Ambulance is playing a vital role in helping sport stage a comeback. 
As lockdown restrictions ease, the health and first aid charity's team of experts is making sure sport can go ahead safely, starting with racing fixtures from next week. 
During the COVID-19 pandemic, St John has been at the heart of discussions with Public Health England, the Chief Medical Officers from different sporting bodies and the Department for Digital, Culture, Media and Sport about how best to resume sports events. 
The charity's St John's event planning and delivery director, Peter Shergold said: "Sport is something that lifts the nation's spirits – like St John Ambulance, it has a track record of bringing communities together – and we have a proud history of caring for crowds at everything from international competitions to local events. 
"We have worked closely with sporting bodies at a national level, as well as local venues to prepare for professional sport to return safely. 
"Even though sporting events will be held closed doors for now, and our teams of volunteers supporting them will be smaller than normal, St John's position is vitally important and we are excited to be back in the game." 
From Tuesday 2 June, St John volunteers will be screening people as they enter racecourses and football grounds, in addition to providing first aid cover for the large teams of staff working behind the scenes at each venue.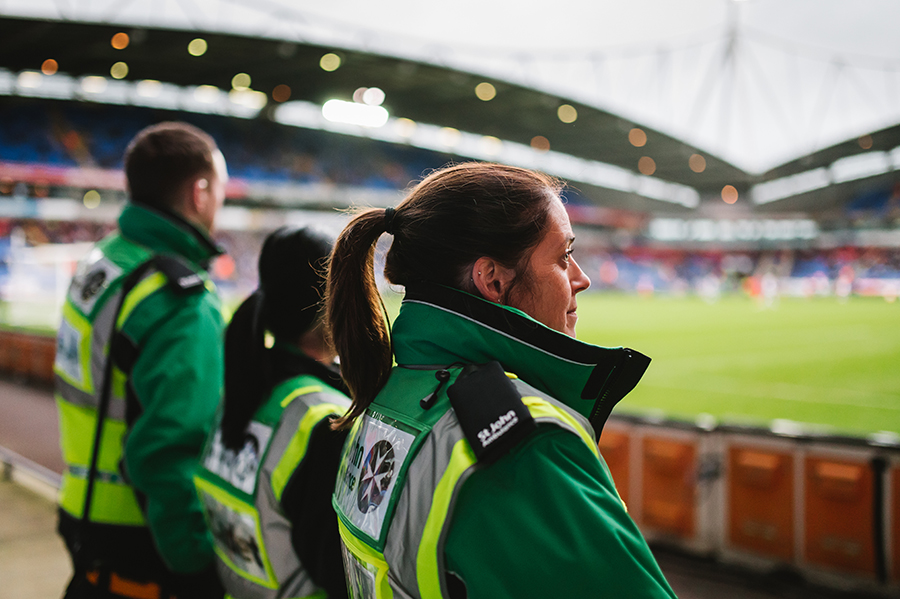 "Every ambulance that we provide at a sporting fixture means that an NHS ambulance won't be needed," said Dr Lynn Thomas, medical director at St John Ambulance.  
"We have looked at the science very carefully with our partners, and our resources, before making the decision to support the return of sport." 
St John Ambulance's current focus is on helping combat the virus, working with the NHS by providing frontline ambulance crews and support for hospital emergency departments across the country. Volunteers have given over 100,000 hours of their time, including delivering compassion and care to patients and communities, since the beginning of April. 
It is all part of the largest mobilisation of St John volunteers since WWII, and comes at a time when the charity's finances are under pressure while its main income streams – supporting events and providing first aid training – have been halted by lockdown. 
For more information on St John Ambulance's work, health advice and the charity's current fundraising appeal visit sja.org.uk/covid-19