25 January, 2021: St John Ambulance volunteers are supporting the NHS England and NHS Improvement COVID-19 vaccination programme, with the first teams being sent in to vaccination centres across the country from Monday January 11.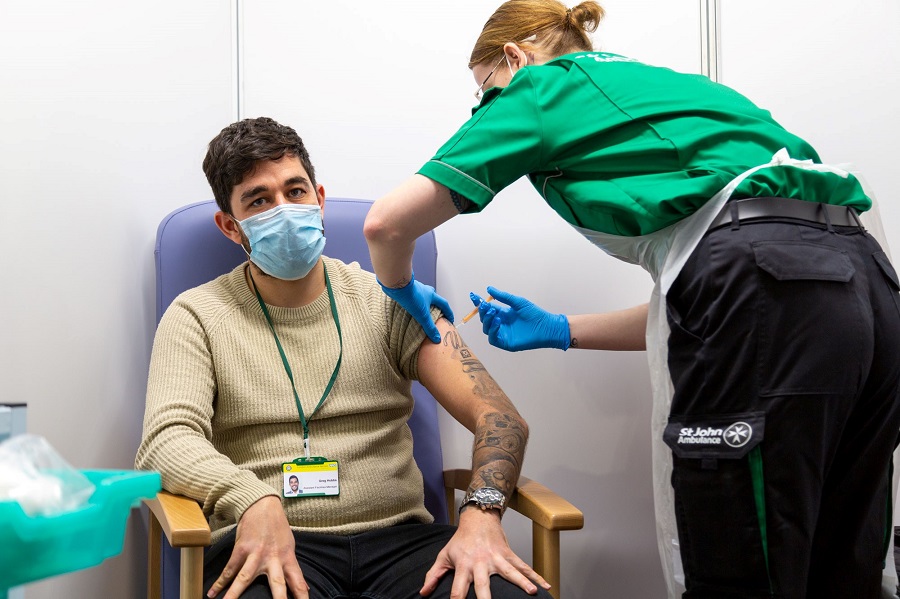 We are pulling out all the stops to train more than 30,000 vaccination volunteers between now and the spring, using our longstanding expertise in empowering people with lifesaving clinical skills and the confidence to use them, every day.
Recruitment from St John Ambulance's existing volunteers and employees has been boosted by thousands of people trained in first aid by the charity, with additional capacity coming from partner organisations including the Royal Voluntary Service, which runs the NHS Volunteer Responder programme.
More than 30,000 people have stepped forward to support the NHS COVID-19 vaccination programme through St John, so far, and the numbers are rising fast every day.
The response since we first started recruiting and training, just over a month ago, has been genuinely inspiring. Each group of people that we have reached out to has answered the call to action, and we are grateful to every individual vaccination volunteer who is joining us in this vital fightback against the pandemic.
Teams of highly-trained St John Ambulance volunteers will administer injections, support people through the vaccination process and care for people before and after they receive their jabs.
Initially, volunteers will be at the seven NHS Vaccination Centres in London, Birmingham, Manchester, Bristol, Newcastle, Stevenage and Epsom, with extra locations to be added over the coming weeks.
Meanwhile, St John is supporting thousands of volunteers as they make their way through the application, interview and training process.
With so many people coming to us wanting to volunteer, some who have signed up recently are waiting longer to hear back than we would like. If this applies to you, please bear with us.
We are improving and streamlining our processes every day and adding capacity to interviews and training, so if you haven't heard back about your application or any other query yet, you will soon.