8 April 2022: The inspirational St John Ambulance brand campaign 'Ask Me' has teamed up with News UK to celebrate the amazing achievements of young lifesavers.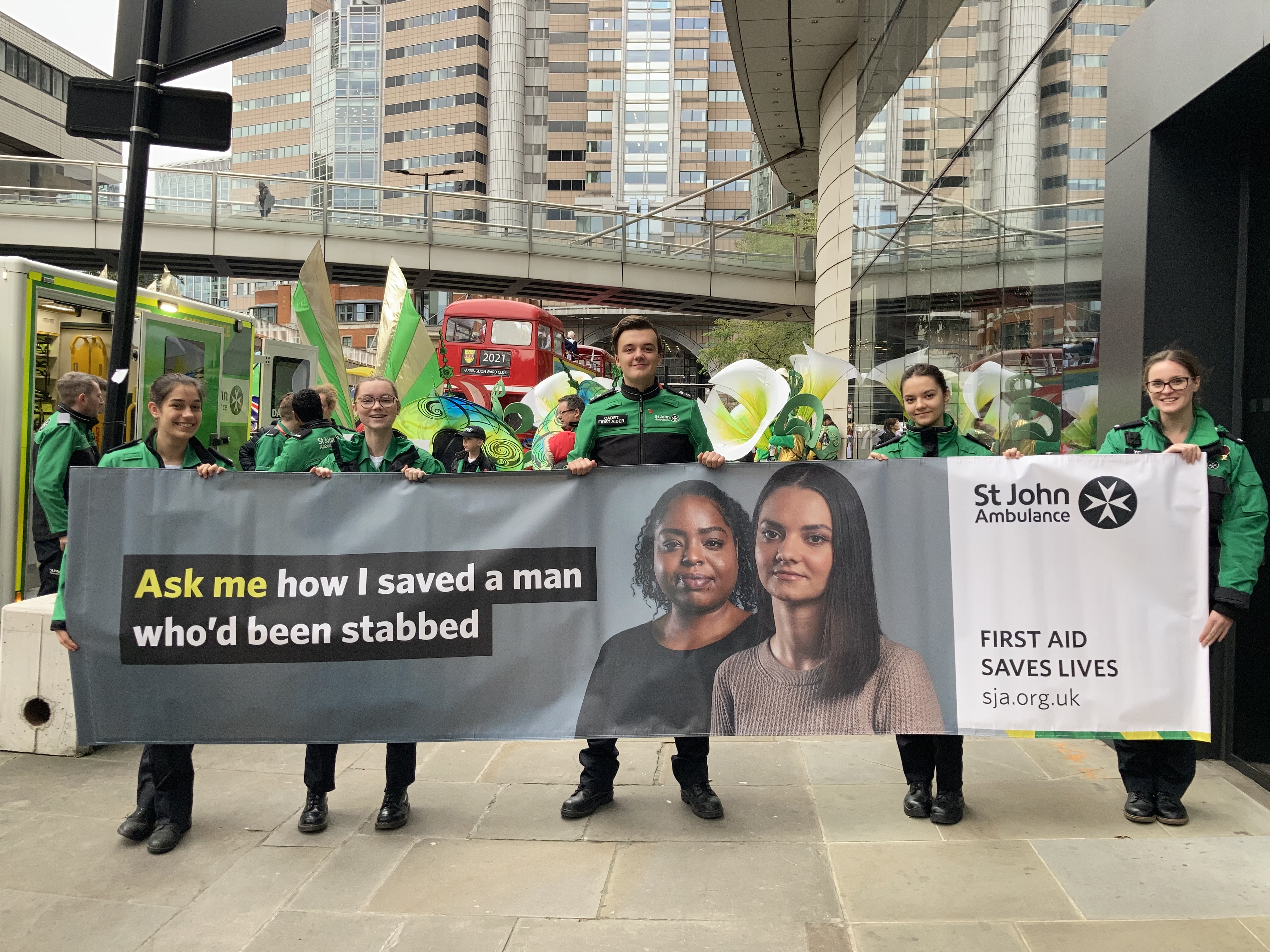 Recognising the Year of Youth, marking the centenary of its Cadet programme and our enduring commitment to young people, the partnership features moving real-life stories – told through media outlets including The Times, Virgin Radio and The Sun - and two major events.
From the quick thinking of a young person helping to stop her mother from choking to death, to a volunteer performing lifesaving emergency treatment on a teenage stabbing victim, new stories will feature across radio, print and digital advertising from next week.
The incredible personal accounts will no doubt inspire millions when they read and watch the interviews in the Times.co.uk and Sun.co.uk. The multiple features and the double-page spread in Fab Daily in The Sun, as well as content across all Wireless Group radio stations, will demonstrate the importance of physical and mental health first aid to us all.
The campaign will also involve sponsorship of two large scale events across England, including two Virgin Radio 'Big Thank You Tours' aimed at key workers.
The Ask Me celebration of young lifesavers runs from April to June. Ask Me was originally created to make the public stop and think about all the vital roles St John plays in people's everyday lives. And now, we hope to recruit more people into our youth programmes, encourage everyone to learn first aid skills, and increase vital donations in support of our lifesaving work.
Chief Executive of St John Ambulance, Martin Houghton-Brown says: "Everyone has heard of St John, but incredibly many people have not heard about our unique youthwork. As it's now been an amazing 100 Years of Youth at St John, it is time to make some noise and tell the country about our inspiring young people and the fantastic service that so many of them offer their communities as both physical and mental health first aiders."
Our youth programmes help young people (aged 5 to 25) grow in confidence, gain important life skills and have the knowledge to know what to do in an emergency. Through the programmes, volunteers are open to opportunities that may influence their career paths and prospects, as well as benefiting their physical and mental health.
Ask Me about the events showcasing young volunteers
Working with Virgin Radio, we will be sponsoring two 'Big Thank You Tour' events taking place in Manchester (26 April) and London (28 April). Special guest stars including Kaiser Chiefs, The Fratellis and David Gray will play to an audience of key workers – including St John volunteers - to thank them for their tireless work responding to the coronavirus pandemic. Since 2020, St John has devoted itself to the fight against Covid, responding to 999 calls, working in hospitals, enabling the safe return of events and much more, including training almost 30,000 volunteers who have spent a million hours giving Covid-19 vaccinations.
To find out more about Ask Me, how to donate and get involved with St John visit our homepage