Wednesday 21 April, 2021: People from all walks of life are volunteering with St John Ambulance in support of the NHS COVID-19 vaccination programme. Our Chief Business Officer, George Woods has been acting as a patient advocate as well as working at the sharp end.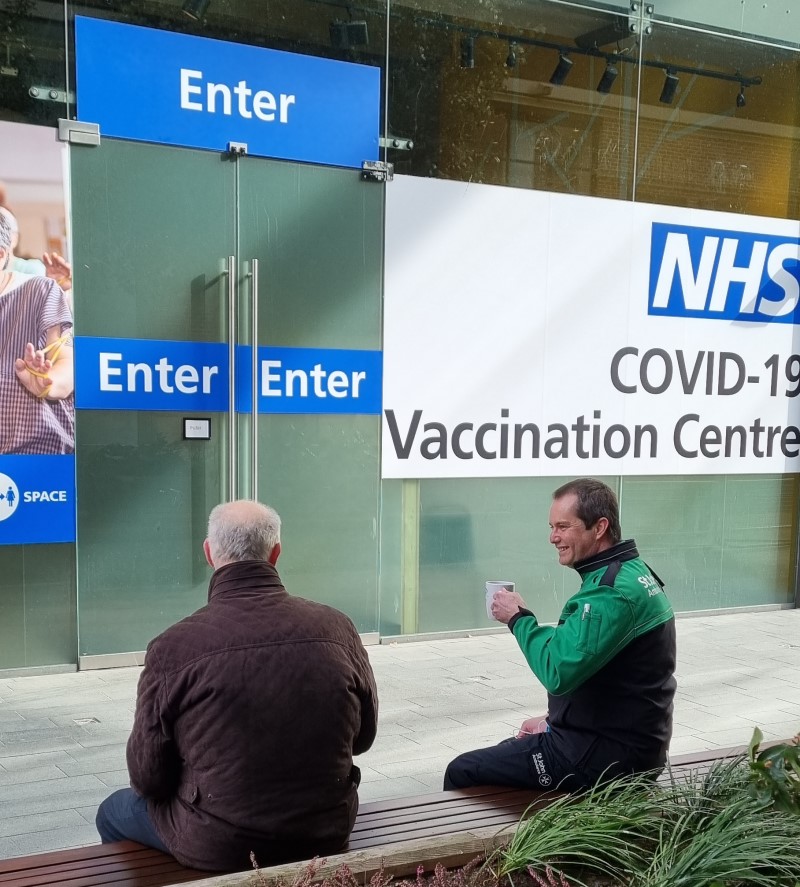 But it's not just about the jabs – as well as giving injections, St John volunteers are caring for people before and after them – and, as Britain marks National Tea Day, we know that sometimes only a brew will do.
"I was at the vaccination centre in Stratford, meeting and greeting people, and guiding them through the whole process, recently," says George.
"A man came out after having his vaccination and I could see he was a little disoriented. I asked he was ok, and he said he'd be fine in a minute but had just forgotten where he'd parked.
"I sat him down and offered him a cup of tea, and he said it was the first time anyone had offered him a cuppa in more than a year.
"Once I'd made him a drink we sat down and started talking; he was very complimentary about St John and how we've been helping during the pandemic.
"We had a lovely conversation – he felt much better after a drink and a chat – and it just goes to show the greatest gift you can give someone is your time.
"Contact with other people is so important and that's something we've all missed in the last year, and it's great that we're starting to get that back, slowly but surely.
"Getting vaccinated is vital for our mental health as well as our physical wellbeing.
"The abiding memory those moments left me with were of the connectedness of the human race, our need to spend time together, and how a simple cup of tea can provide those opportunities."