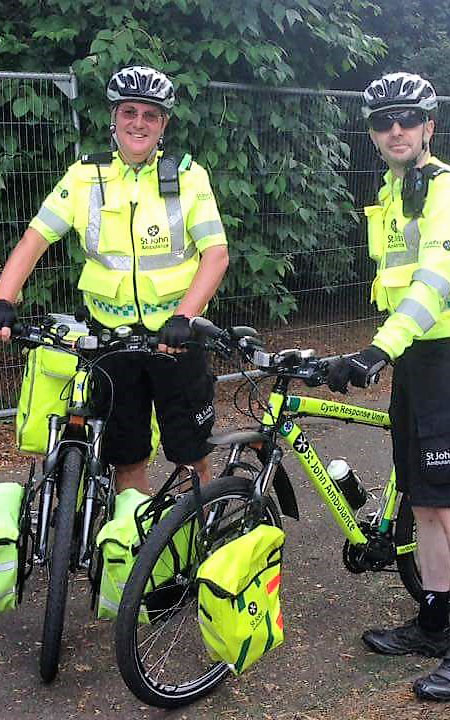 "I retired in 2019, after teaching for 36 years in schools and universities. I knew I couldn't just do nothing, so I decided to volunteer and give something back.
Whilst training to be a volunteer at the London Olympic Games, I spoke to a friend about other opportunities, and she suggested St John Ambulance. I applied in late 2012 and joined the Bedford John Bunyan unit in January 2013. I learnt a lot of new lifesaving skills, which were completely new to me after my career in education.
I started as a Trainee First Aider, and after a couple of duties, qualified as a First Aider. As my confidence and experience grew, I became a Cycle Responder (CRU). During COVID-19, I trained as an Ambulance Care Assistant (ACA) to provide patient transport at the Nightingale hospital in London. I have looked after poorly people and learned so much about health and medical conditions. I've provided care alongside some fabulous volunteers from all walks of life. They all give their time freely whilst often holding down a full-time job and raising a family. They are true St John heroes and are the bedrock of this amazing volunteer charity.
Over the years, I have volunteered with St John at some amazing local events in Bedford and even further afield, including the Cricket World Cup at Lords, the IAAF Athletics World Championships, rugby at Twickenham, the London Marathon, the Notting Hill Carnival, music concerts and the Bedford River Festival. Typically, I volunteer at 60 to 70 events a year. What I appreciate about volunteering with St John is that you are never alone when on duty or treating a casualty. Either you are working alongside another trained volunteer or just a radio or phone call away from back-up from an ambulance crew.
"The training and experience I get from volunteering at events gave me the confidence to respond to emergency incidents when I'm off duty. Whilst visiting the Tower of London, I noticed a small crowd gathering around an elderly man on the floor."
I went over to the group and offered my assistance as a St John first aider. I was able to tend to a man who had fallen and had a suspected wrist fracture. I was able help him get comfortable, make observations, give reassurance, and provide an informed handover to the ambulance crew on their arrival. For me, it is so important to offer care and reassurance when someone is feeling vulnerable or unwell.
I am currently the training lead at my local St John unit. I think my background as a teacher helps me pass on the skills I have learnt to others. I may have come to St John as a retiree, but it gives me the opportunity to help the next generation learn health skills and take care of others. It appears that I am now the go-to person in my family for health and first aid advice!
It doesn't matter if you're young or old, what brings St John people together is being able to help people - people who need health and first aid help, or just reassurance in their time of need. As a retiree, I have the life skills and the luxury of being available during times when my colleagues are at work or raising their family. There are duties in which we can all participate and make a difference."